District 5, commonly referred to as the Central District, extends south from the Panhandle, over Twin Peaks, and back down to Glen Park. It is home to nearly 77,000 inhabitants and 33,887 residences. In the last two months (June/July), 175 of these homes changed ownership.
Are you thinking about selling and adding to that number? Here are five things to keep in mind:
1. Be prepared for your realtor to set expectations.
As the market corrects, buyers and sellers need time to adjust to the new normal. The rapid increases in home prices and market competition we have been experiencing are in a cooling period. Your agent's job is to keep you informed of current market conditions and how this may affect your home sale.
2. Homes in District 5 are taking longer to sell.
There has been a statistically significant 83+% increase in
Days on Market
for homes in this area. But let's be quick to note in June the average number of days it took to sell in District 5 was 13 days. That number has risen to 22, still well below the national average of 35.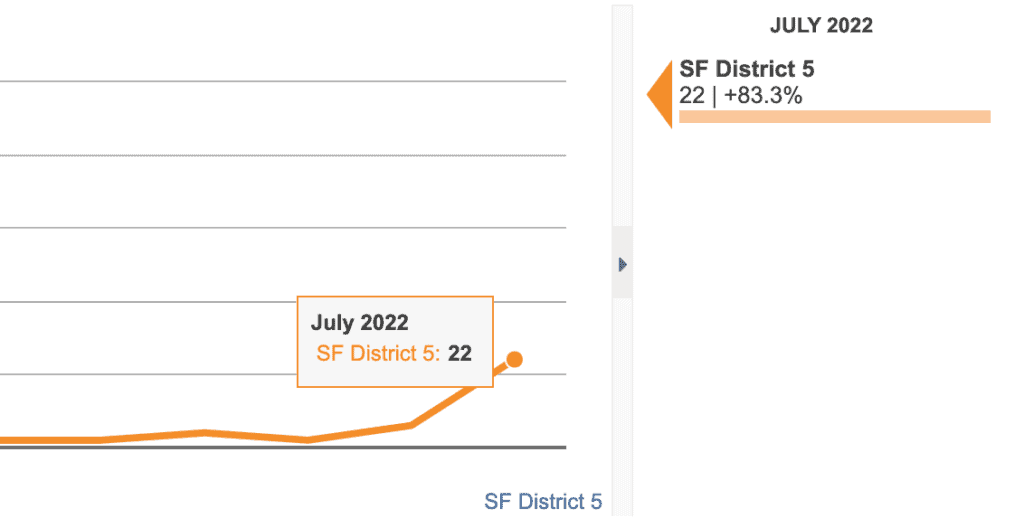 3. Take a closer look at recent home sales.
Recent home sales in your neighborhood will carry more weight in pricing your home than those from two, three, or six months ago. As you work with your realtor to review the
Compar
ative
Market Analysis
(CMA), recent home sales will provide a clearer picture of what the market will sustain in terms of price and time to close.
4. Work with a local expert.
Selling real estate is an important financial chapter but it can be fun. Work with a team that puts your interests first, provides clear and honest
communication
and can take on the minutiae of prepping and marketing a home for the best return on your investment. Interview multiple agents. The most successful teams will be able to show a portfolio of sales that speak for itself and can outline a clear roadmap from signing the listing agreement through a successful close.
5. Understand the true cost of selling your San Francisco home.
To properly plan, you will need an understanding of all the costs involved. We provide a 'Net Sheet' that outlines fees the seller is responsible for and shows what you can expect to net. In San Francisco, some of the more significant costs for the seller are; realtor commissions, improvements, city transfer tax, and miscellaneous costs with escrow and closing.
Home Sellers that understand the value of pre-sale renovations can take advantage of our Home Concierge program dubbed Revive. Revive can help you in three ways:
Fronts ALL COSTS associated with pre-sale home renovations at no interest and no fees.
Acts as a resource to provide our expertise to prepare a home renovation plan so you can maximize the return on your investment.
Access to our network of service providers to ensure quality, speed, and affordability.
---
To learn more about our Home Concierge Revive program call Jennifer Burden at
415.300.2483
---
In San Francisco, the Seller typically pays for the following when selling their home: