Did You Pay San Francisco Recology between July 1st, 2017 and April 1st, 2021?
You Are Eligible For A Recology Reimbursement Check. Here's how make sure yout get your payment.
San Francisco Recology customers (yes, that's you) are eligible for nearly$100M in overcharge fees and interest charged by the San Francisco public utilities. In addition, you should already be enjoying slightly lower fees and interest since April 1st, 2021. According to the City Attorney, most households will get about $190 back!
If you or your business had an account with Recology San Francisco at any point between July 1st, 2017 and March 3rd, 2021 you should be entitled to receive payment.
How to ensure you get the Recology payment?
1. Check your mail or email. You should have received an email or postcard with your unique 10 digit ID & PIN # in early July.
2. Go to the Recology payment website: https://www.sfratepayment.com/en/Login
3. Enter your choice of physical check or electronic payment and update the mailing information.
Once you add in login and account info you can update your payment preferences and it will tell you exactly how much you will be repaid. Like this:

The deadline to make a payment selection is July 30th, 2021.
4. If you have moved during that time or have multiple accounts look for the email or postcard from recology to update your payment info.
5. If you do nothing a check will automatically be emailed to the address on the Recology account. The paper checks will be emailed on August 6, 2021.
I CAN'T FIND MY RECOLOGY UNIQUE ID OR PASSWORD.
Can't find your recology email or postcard but still living in the same house since 2017? No worries. There is no need to take any action. A check will be mailed to the billing address for the account.
However, if you have moved or had multiple accounts and living locations you will need to call the payment hotline: at: 1-855-654-0939.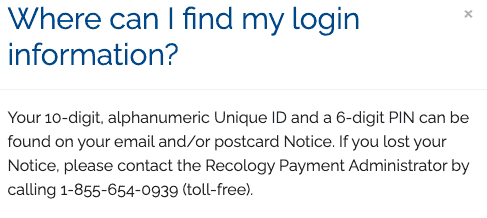 You will need to provide the following:
First name / Last name
Billing address
Service address
Your Recology account #, if you have it
Phone number associated with the account
Email address associated with the account.
Any other questions about making sure you get your refund we recommend calling the Recology Payment Administrator directly at 1-855-654-0939. Best of luck!
---
Jennifer Burden and her mother Carren Shagley have been helping homeowners and homebuyers in the Bay Area and beyond for over 50 years. If you are looking for a top San Francisco real estate agent – you can do no better than giving Legacy Real Estate a call:
---