This year, the number of new listings has been significantly lower than usual compared to sales growth. Typically, inventory grows in the first half of the year as new listings significantly outpace sales. At this point, inventory levels can't make up for low growth in the first five months of 2023, keeping the supply of homes and, in turn, sales depressed for the rest of the year. The limited number of listings is especially challenging in luxury markets where homes sell for millions of dollars. Homebuyers, understandably, only want the right home for their money.
Single-family home and condo inventory has been trending lower for the past 12 months. Inventory showed some initial signs of growth in the first quarter before declining in April and May. Sales grew from April to May while new listings declined for the second month in a row. Additionally, inventory, sales, and new listings are all significantly lower than last year. The number of home sales is, in part, a function of the number of active listings and new listings coming to market. Even though new listings are at a depressed level, any amount of new listings positively affect sales. Currently, inventory is so low relative to demand that far more new listings could come to the market. Potential sellers who have fully paid off their property are in a particularly good position if they don't have to finance their next property after the sale of their home. Since January, sales jumped 115% while new listings declined 23%.
As buyer competition has ramped up and sellers are gaining negotiating power, sellers are receiving more of their listed price. In January 2023, the average seller received 96% of list price compared to 100% of list in May. Inventory will almost certainly remain depressed for the rest of the year, and the market will likely only get more competitive in the summer months.
Months of Supply Inventory indicates a sellers' market for single-family homes and a balanced market for condos
Months of Supply Inventory (MSI) quantifies the supply/demand relationship by measuring how many months it would take for all current homes listed on the market to sell at the current rate of sales. The long-term average MSI is around three months in California, which indicates a balanced market. An MSI lower than three indicates that there are more buyers than sellers on the market (meaning it's a sellers' market), while a higher MSI indicates there are more sellers than buyers (meaning it's a buyers' market). The San Francisco market tends to favor sellers, at least for single-family homes, which is reflected in its low MSI. However, we've seen over the past 12 months that this isn't always the case. The MSI indicated that single-family homes and condos began the year in a buyers' market. MSI has declined sharply since January for both single-family homes and condos, indicating that the climate has shifted from a buyers' market to a sellers' market for single-family homes and a balanced market for condos. The sharp drop in MSI occurred due to the higher proportion of sales relative to active listings and less time on the market.
Local Lowdown Data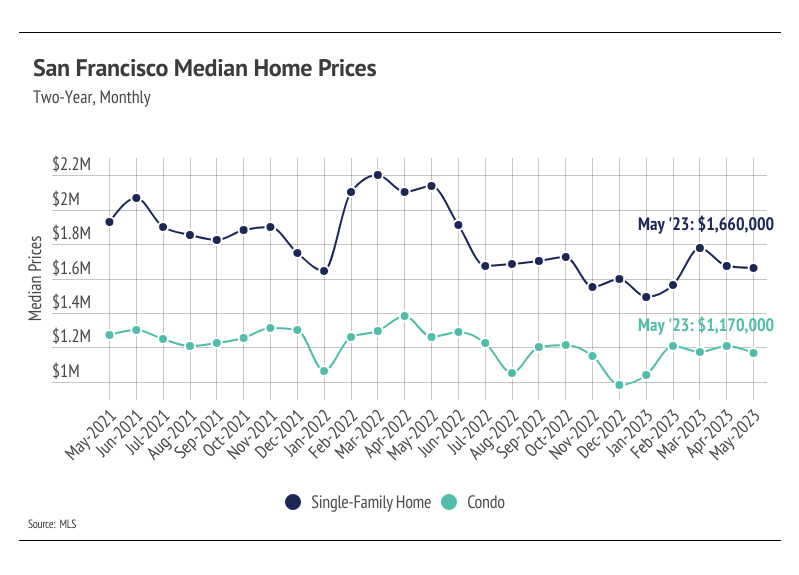 As your local real estate experts, we feel it's our duty to give you, our valued client, all the information you need to better understand our local real estate market. Whether you're buying or selling, we want to make sure you have the best, most pertinent information, so we've put together this monthly analysis breaking down specifics about the market.
As we all navigate this together, please don't hesitate to reach out to us with any questions or concerns. We're here to support you.
- Jennifer Burden, LIC #1407698