San Francisco is an incredibly unique and diverse city. Our many neighborhoods, each with their own architecture, food, and culture all come together in a mere 7×7 mile radius to create this special space. As a team involved in real estate and who live here, we understand what works for one San Francisco zip code does not always apply in another. Tactics for buying and selling in SOMA, for example, do not always apply to the Bayview and vice versa. That is why we created an analysis specifically for the Bayview housing market. 
You require local expertise to make the right decisions. That is why we are sharing our Sate of the Bayview Market Report in full HERE. Click the link to find out what 2019 can teach us about the future of Bayview real estate, distinct strategies for buying and selling in 2020 and beyond, and the impacts of COVID-19.
---
DOWNLOAD OUR FREE BAYVIEW STATE OF THE MARKET REPORT
---
Not interested in the full report?! No problem. Here's a snapshot to whet your appetite. Have any questions? Don't hesitate to drop us a line. Let's get to it!
THE BAYVIEW HOUSING MARKET KEY INDICATORS
Below is a snapshot of the housing market in January of 2020 across several key indicators. As the market conditions change in response to the global pandemic, we can look at this data in real-time to make the best decisions. We use data specifically for homes in the 94124 zip code.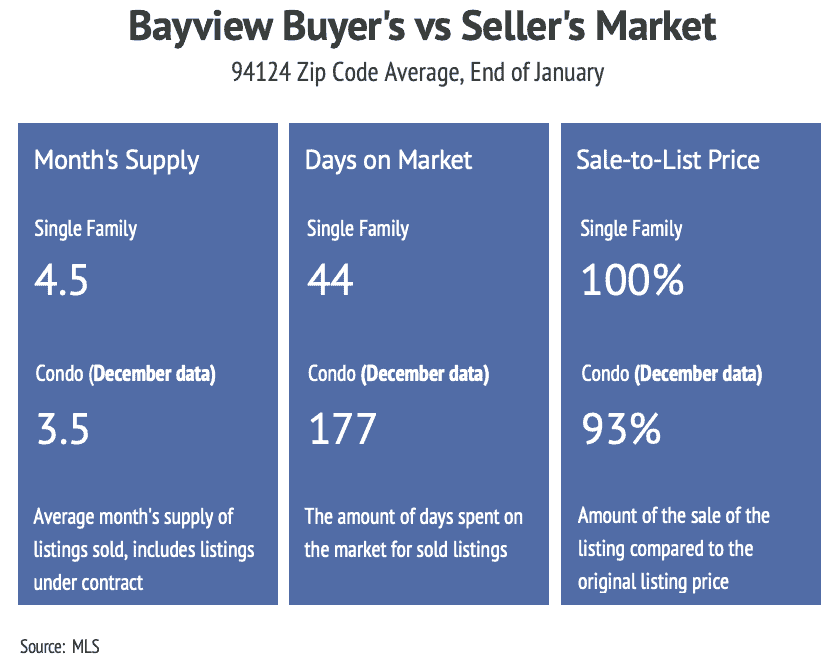 The Bayview housing market is balanced, meaning there are aspects of that favor both the buyers and sellers.
In January, the month's supply was 4.5 for single family homes, which means there were 4.5 months of listings on the market at the current rate of sales (includes listings under contract). Analysts consider a balanced market between buyers and sellers to have 3 months of supply in California, indicating that there are more houses on the market and less buyer demand in Bayview compared to the surrounding area.
Days on market measures the total number of days a listing is active before an offer is accepted. In Bayview, sellers of single family homes should expect offers to be accepted in 44 days on average. The condo market moves significantly slower at 177 days. If it is taking longer than average to receive offers, sellers should consider reducing their prices. Buyers should act diligently when making offers on homes; especially homes that have been on the market for a couple of weeks already. Homes on the market for longer than 44 days may be priced too high or something else may be wrong; buyers should proceed with caution.
Lastly, we look at the sale-to-list price ratio, which is a measure of the difference between the original list price of the home and the final sale price. For example, a ratio of 100% means that the home sold for the same price that it was listed. The median Bayview single family home sold for 100% of its original listing price. The median Bayview condo, however, sold at a discount of 93% of its original listing price.
---
Want to learn more? Download the full report free. Click here.
---
We want to assure you of all investments you can make, real estate has historically proven to be the best asset you can own in the long-term – and we expect this to continue to be the case.