As you may recall from our other posts the sale-to-list ratio reflects the change in the original list price and the final sale price of a home. It's one of the many factors we look at each month as we get a snapshot of the local San Francisco housing market.
Looking at the chart below you will notice a dotted line. The dotted line represents a ratio of 100% which means that a home sold for exactly the price at which it was most recently listed. Anything above the line sold for more and anything below sold for less than the listing price.
In San Francisco, single-family homes almost always have higher sale-to-list ratios than condos. In April however that was not the case. Single-family homes began selling at a small reduction and below the condos. This points to a market clearly in flux and there should be no surprise to see some strange behaviour while most of the state slowly re-opens. What we have noticed in May is that single-family homes have already bounced back. Take a look.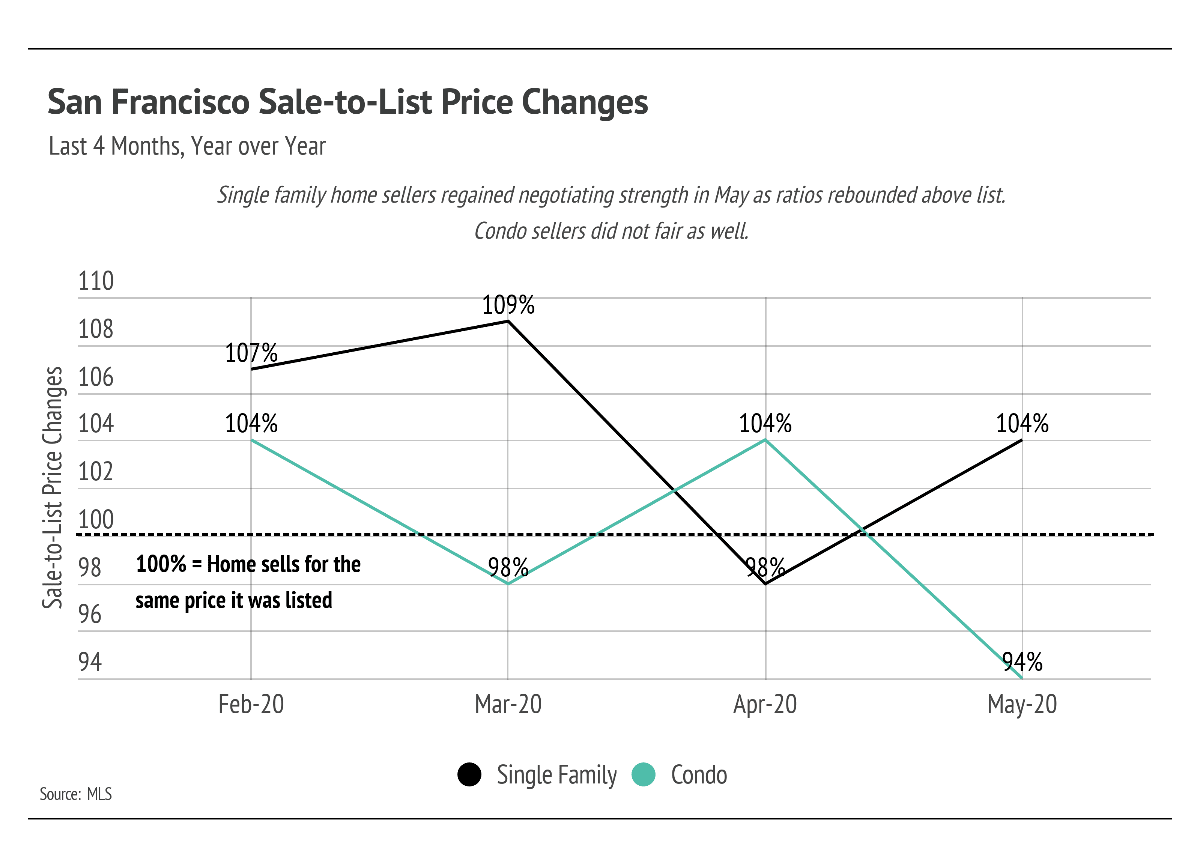 Takeaway #1
Single-family-home prices are back to selling at a premium in May, rebounding from April when homes sold below list price for the first time in over a year.
Takeaway #2
Condos are selling at their largest discount in over two years. A reason the markets differ may be because condos cater to a younger and more mobile population with smaller households which often leads to a more volatile market.
---
If you want to read more about the market for condos check out our recent analysis of the California Association of Realtors poll of Buyers and Sellers.
---
Looking ahead to July, we anticipate housing market activity to increase as pent-up demand turns into participation from both sides. We are closely monitoring the divergence in single-family home and condo prices to make sure we are pricing and negotiating to get the most value out of their transactions. Have any questions? Drop us a line.