Bernal Heights has earned itself the notable position of one of San Francisco's favorite places to live. This quieter neighborhood with a higher than average percentage of children has become a hot spot for couples looking to start and raise a family. Parents are always on the look out for a few new ideas of things to do with kids. So here you go.
Whether you are a local, just visiting, or coming to explore a new area, here is our guide of the top 10 activities for kids in Bernal Heights:
1. Climb to Bernal Heights Park
Fly Kites, Meet Dogs, and walk the Rock Labyrinth at Bernal Heights Park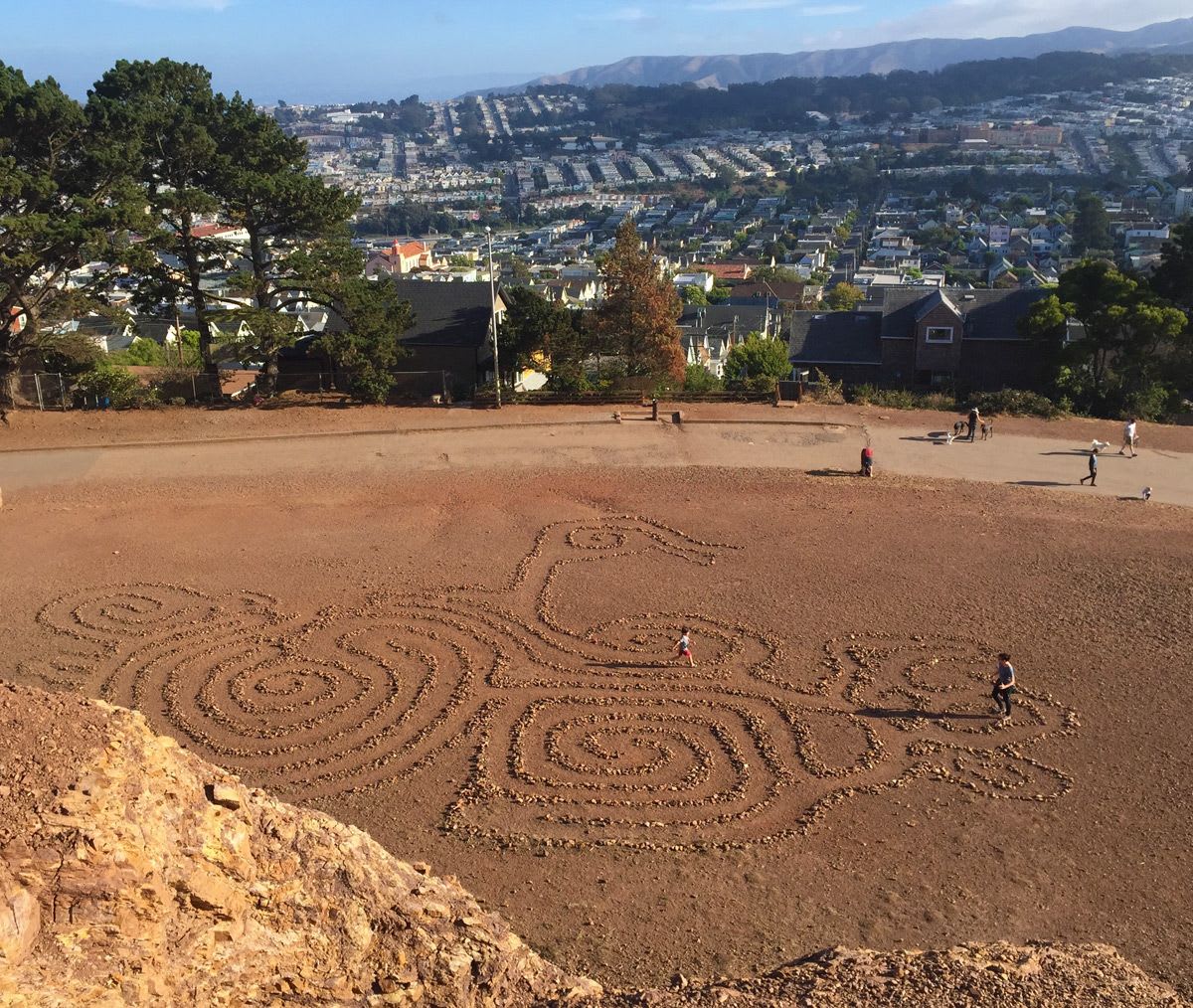 Any Bernal activities list would be remiss to not feature the centerpiece of Bernal Heights. Bernal Heights hill. This hilltop with 360 degree views of the city is a beacon for families, exercise goers and dog walkers. While there is no playground in sight there are plenty of short steep trails to test little legs and consistent fog-driven wind for any enthusiastic kite flyer. Don't forget to wander the unassuming rock labyrinth on the southern slopes. For the shortest hike parking can be found at the top of Bernal Heights Blvd.
2. Discover the Hidden Esmeralda Slides
Skirting down the western slope of Bernal hill lies the lesser known Esmeralda/Winfield slides. Wax paper and synthetic trousers are recommended for the fastest rides. Note these slides are not part of a greater playground complex so don't expect to kill too much time here. These slides are fairly long so might not be best for the little-est of tykes. (Directions).
3. Visit Holly Park Playground(s)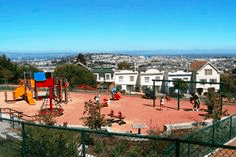 This is the first of four Bernal playgrounds we recommend here. This is a good contender for Bernal's best playground and some have argued it's San Francisco's best, as voted on by the SF Chronicle. Divided into two sections it has activities for two age groups. Want to swing a bat with your little ones? Holly Park also boasts one of the best children-friendly baseball diamonds in town.
4. Explore Space at STEMful
New to the area in 2017, STEMful is a community and education space in San Francisco for children ages 1-10 years old. There are daily drop-ins allowed to enjoy STEM-focused toys, and relax in our warm, relaxing environment. Parents are invited to bring their children to learn, play and sprout curiosity. There is free parking nearby on Tiffany avenue and San Jose. We recommend calling first to see what's available due to Covid closures. (STEMful)
5. Go Clothes and Toy Shopping at Chloe's Closet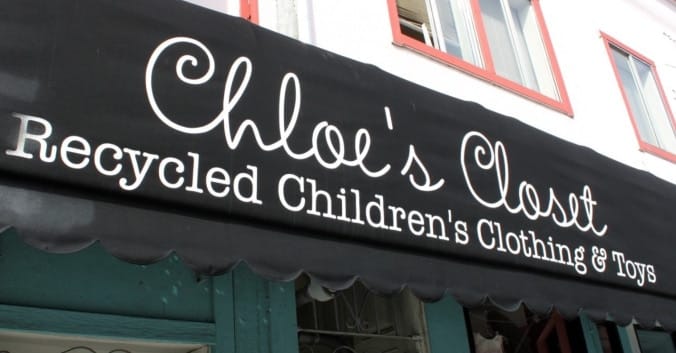 We've covered Chloe's before. But there is no reason not to do so again. This great second-hand store has been helping Bernal parents dress their children for many years. Not only do they have clothes, bring your little one to pick out one of the used or new toys.
6. Take a Scooter to Bernal Heights Library/Playground
A short stroll from Chloe's is the Bernal Heights Recreation Center Playground. Located conveniently close to everything Cortland Avenue has to offer and directly behind the public library (with a great kid's section!). Bring your scooters and bikes. Below this sand-filled play area is a wonderful open playground for learning to ride.
7. Picnic at Precita Park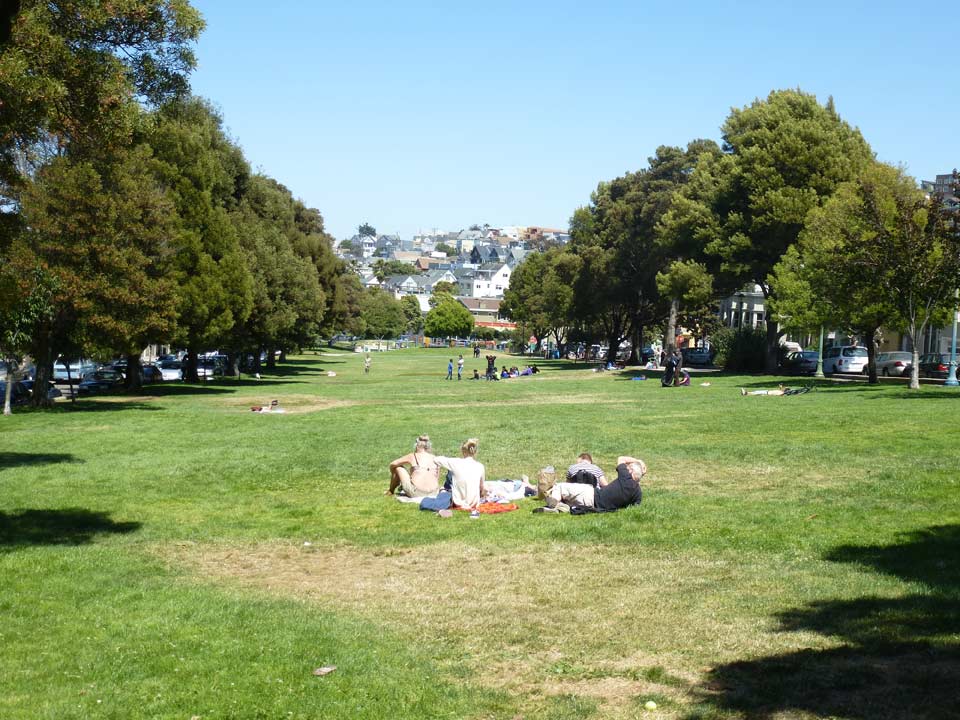 On the northern slopes of Bernal lies Precity Park. A family and dog-friendly strip of grassy open space for lounging, sun-bathing, picnics and play. The playground here is a mecca for local parents that can spend the day with easy refreshments and resupply from the Precita Park Cafe or Harvest Hills Market.
8. Treat Yourselves at Mitchell's Ice Cream

Mitchell's ice cream is not just an ice cream store, it's an institution. Parking is available in the rear but know lines can get lengthy on warm nights. Your best bet is an afternoon treat. (Directions).
9. Bring the Pups to St. Mary's Park & Playground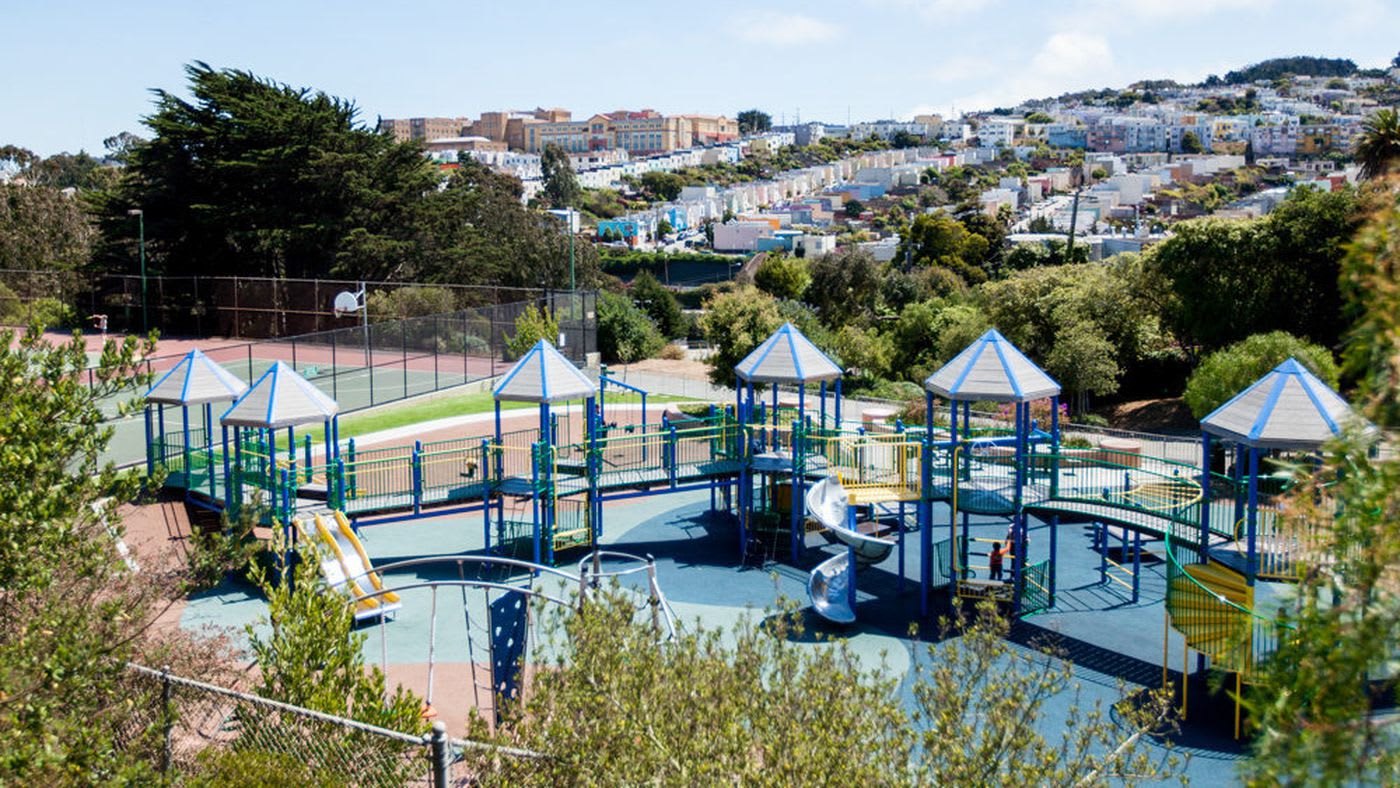 Even the SFParksAlliance calls this a San Francisco secret. Shhhhhh. Newly renovated, it now houses a pristine multi-purpose field with two baseball diamonds, a basketball court, two tennis courts, hop scotch and four square courts, and a playground with a sand pit. This play area (and dog park) are spread out over 3 levels. If you are looking to avoid the crowds. This may be your best bet.
10. Bare Bottle Brewery
I would be surprised to find a brewery among a recommendation list for children's activities. But let's be honest. All children need to be accompanied by adults and it's not just children that need to unwind. Bare Bottle offers a great open space that is kid-friendly including a side room with children's books and some games. The main area sports a ping-pong table, shuffle-board, and other parlor sports. There is usually a revolving door of food trucks outside to meet the needs of all your hungry mouths. Note: kids are allowed but the Bare Bottle website is clear that they must be well-behaved. 
Thanks for checking out our activity list. Feel free to drop us a line with any activities we may have missed or add them in the comments section.
---
Jennifer Burden and her mother Carren Shagley have been buying and selling houses in the Bernal and beyond for over 50 years. If you are looking for a top San Francisco real estate agent – you can do no better than giving Legacy Real Estate a call at:
---