No neighborhood would be complete without a local venue to congregate and caffeinate. Bernal offers excellent local coffee shops from the boutique roaster to the entrepreneurial chain. Join us for a tour of the best places for coffee in the Bernal Heights district. 
BERNAL COFFEE SHOPS
Martha & Bros Coffee
One of the most popular places for coffee in Bernal Heights is undoubtedly Martha & Bros. Coffee. This cozy coffee shop has been a local favorite for over 30 years with sister locations in Noe Valley! Located on Cortland avenue this has been a Bernal Heights staple known for its high-quality coffee, friendly staff, and early hours. Martha & Bros. Coffee sources its coffee from some of the best coffee growers in the world and roasts it in small batches to ensure that each cup of coffee is fresh and flavorful. Sit indoors or out at this location or sign up to Martha's coffee subscription.
Location: 745 Cortland Ave, San Francisco, CA 94110
Link: https://www.marthabros.com/
Hours:  Mon - Sat: 5am - 7:30pm
Sun: 6am - 7pm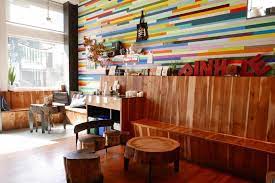 Pinhole Coffee
Pinhole Coffee is a charming café also located on Cortland Avenue in the Bernal Heights village. The shop's name, Pinhole, derives from the magic of Pinhole photography where a pin-sized hole produces a beautiful image far greater in size. Aptly, this cozy spot offers a grand coffee experience with a selection of locally sourced pastries to boot. The walls are adorned with artwork from local artists, and the space frequently hosts community events such as art shows, readings, and screenings. Pinhole Coffee has become a beloved fixture and is looking to expand its footprint with a proposed parklet.
Location: 231 Cortland Ave, San Francisco, CA 94110
Link: ​​https://www.pinholecoffee.com/
Hours:Monday - Friday, 7:00am - 4:30pm 
Saturday & Sunday, 7:30am - 4:30pm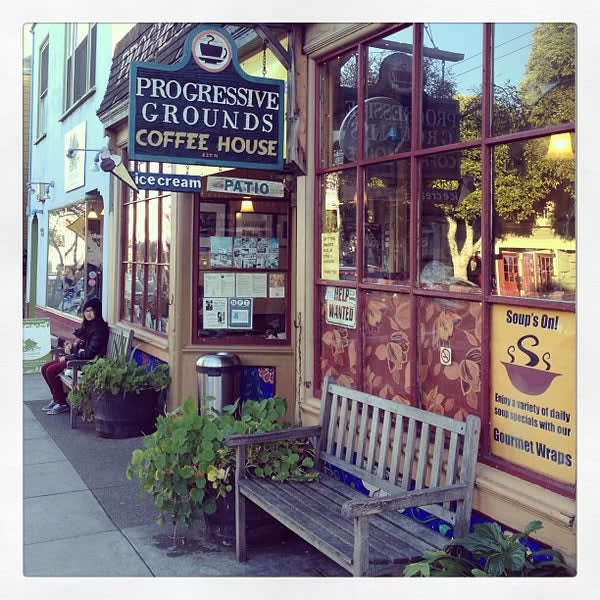 Progressive Grounds
Progressive Grounds occupies the corner at 400 Cortland and Bennington st. Its original wood and glass facade matches the colorful and cozy interior. This is a great spot for larger groups with seating options front and back. Choose from the benches outside and a pillow-lined room in the back extending out towards its renovated outdoor patio. This is not just a good spot for coffee, there's a full menu with a Middle-Eastern twist such as the Croque Monsieur made with lavash.
Location: 400 Cortland Avenue
Link: https://www.progressivegroundssf.com/
Hours: Mon - Fri 6:30 am - 8:00 pm
Sat - Sun 7:00 am - 8:00 pm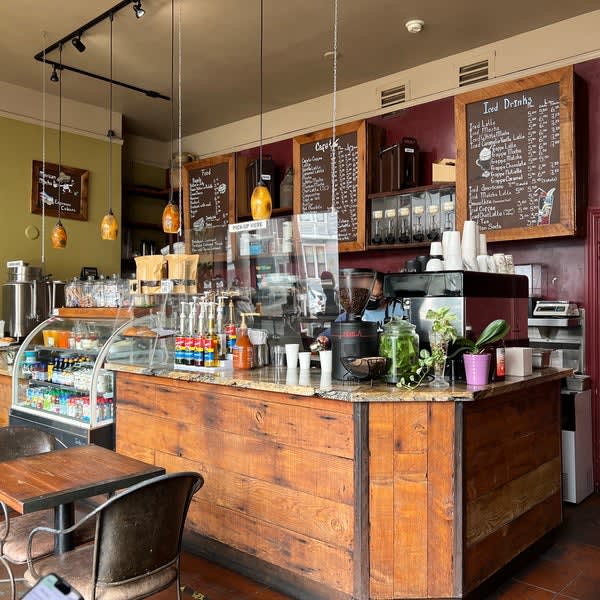 Cafeto
Oh, Cafeto! This friendly neighborhood coffee shop packs a punch. They magnificently roast their own beans and make a mean cup of coffee that is delivered with a smile. Cafeto is a family-owned business committed to community evident in its welcoming atmosphere. Tucked back from the Mission Street thoroughfare, this shop is located on Richland Avenue. Be warned there is no parking and patrons sometimes double park outside to run in. Local tip: Order ahead to get a pound of your favorite beans ground to the size of your choosing.
In addition to coffee, Cafeto offers a selection of pastries and light bites such as the chicken pesto sandwich.
Location: 111 Richland Avenue
Link: http://www.cafetocoffeshop.com/
Hours: Mon - Fri: 6 am - 3 pm
Sat: 6:00 am – 2 pm
Sun: 6:30 am - 2 pm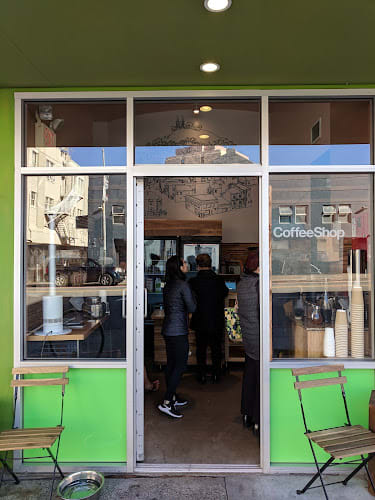 CoffeeShop
The CoffeeShop is located at 3139 Mission Street. You might want to save the address since the shop is small with just their name on the window. Once you find it and step inside, you can enjoy coffee from all over the world. Enjoy a selection of beans from Nicaragua, Congo, Mexico, Ethiopia, and more. This is a great spot to grab a coffee on the go or sit at the bar for a light bite. 
Location: 3139 Mission Street
Link: https://subscribecoffeeshop.com/
Hours: 7AM-4PM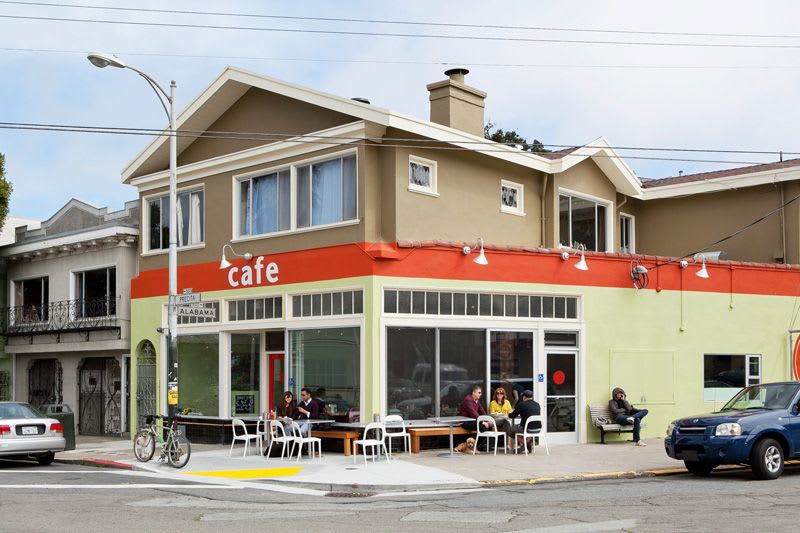 Precita Park Cafe
Precita Park Cafe is a charming café located on the northern border of Bernal Heights and a staple for any Precita Park visitor. It's the perfect respite after a session at the nearby playground or a hike around Bernal Hill.
The café offers a variety of coffee drinks, including espresso, cappuccino, and pour-over, made with locally roasted beans. They also offer a selection of teas, smoothies, and other beverages. Their food menu includes a range of tasty options, such as breakfast sandwiches, salads, and sandwiches made with local and organic ingredients.The business is committed to working with local, family owned businesses that share our commitment to the community and a sustainable lifestyle. All of our chicken, ham, bacon and beef is responsibly farmed. The eggs we use are cage free. Our coffees comes from local roasters and we use organic produce whenever possible. Dinner service Tues-Sun @ 5:00
One of the standout features of Precita Park Cafe is its location. The café is situated right across from the beautiful Precita Park, providing a stunning view and creating a peaceful and relaxing environment for guests. The outdoor seating area is a popular spot, especially on sunny days, and provides a great place to enjoy a cup of coffee or a meal while taking in the park's natural beauty.
Location: 500 Precita Ave
Link: https://www.parkcafelife.com/
Hours: Mon 8:00 AM - 5:00 PM
Tue: 8:00 AM - 5:00 PM
Wed: 8:00 AM - 5:00 PM
Thu: 8:00 AM - 8:00 PM
Fri: 8:00 AM - 8:00 PM
Sat: 8:00 AM - 8:00 PM
Sun: 8:00 AM - 4:00 PM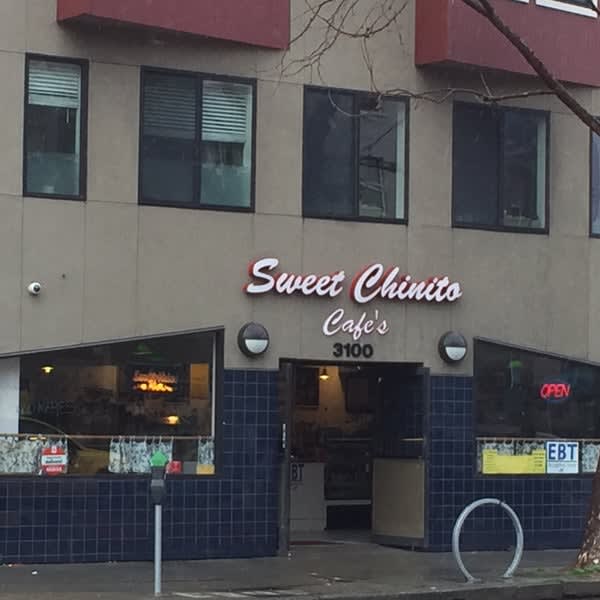 Sweet Chinito's Cafe
If you are looking for an affordable neighborhood Mom and Pop shop with Americana cuisine, look no further. The coffee is good the smoothies are great. Not necessarily a destination locale but well worth the visit if you are hungry, thirsty and nearby. Unplug. There's no wi-fi so it's a good place to unwind. 
Location: 3100 Mission St
Link: https://sweetchinitocoffeesanfrancisco2.bestcafes.online/
Hours: Mon - Fri 6:30 - 5 pm
Sat 7 am- 5 pm
Sun 7 am - 4 pm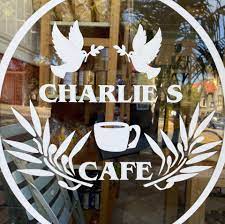 Charlie's Cafe
Situated on the western edge of Precita Park, Charlie's Cafe offers a warm and inviting atmosphere for locals and visitors alike. Whether you're in the mood for a quick bite, a steaming cup of organic coffee, or a social gathering with friends, this cozy neighborhood spot has got you covered. Among their most popular offerings are the breakfast bagel, hot sandwiches, and a choice of either Freddy Hummus or baba ghanoush.
The cafe's interior boasts a simple yet charming decor, featuring wooden tables and chairs, and showcasing works by local artists on its walls. Outside, a small seating area provides the perfect setting for soaking up some sun on a pleasant day.
Location: 3202 Folsom
Link: https://www.yelp.com/biz/charlie-s-cafe-san-francisco
Hours: Mon - Sat 7:30am - 3:30 pm
Sun 8:30 am - 3:00 pm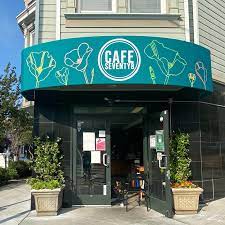 Cafe78
Cafe Seventy8 became an integral part of the Bernal Heights community in June of 2008. Since then they have provided a charming hub to grab a cuppa, breakfast or lunch. Free wifi, a quiet atmosphere, and lots of tables make this a great spot to get some work done. Generous portions and reasonable prices mean this place is here to stay. Check it out!
Location: 78 29th St, San Francisco ​(between Mission St. & San Jose Ave.)
Link: http://www.cafeseventy8.com/
Hours: M-F 6-3, Sat 7-2, Sun 7:30-2​