Bernal Heights Real Estate
Real Estate Market Trends for Bernal's Microhoods
The San Francisco Association of Realtors breaks San Francisco into 10 unique districts. Bernal Heights, for example, is in District 9, alongside the likes of the Financial District – Barbary Coast, Central Waterfront – Dogpatch, Inner Mission, Mission Bay, Potrero Hill, South Beach, South of Market, Yerba Buena. 
Today, we want to explore how these districts can be broken down even further and how they stack up when we compare 12 months of single family home sales.
Without further ado. Here is our unofficial guide to the Microhoods of Bernal Heights. We have divided Bernal into eight distinct regions of real estate. Each with its own personality and nuance.
1. Northwest Slope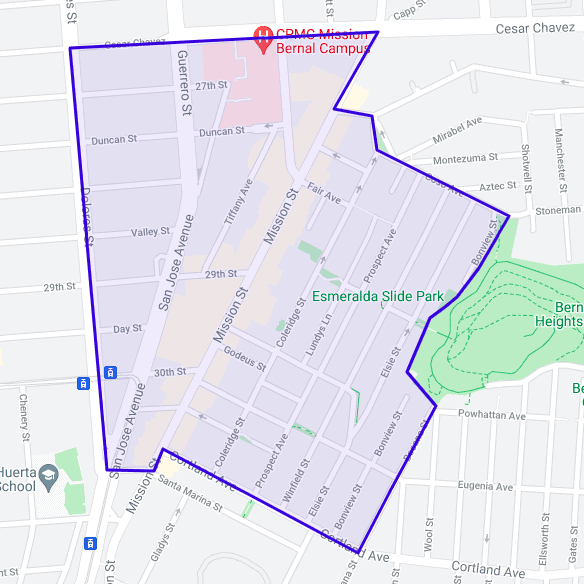 Stretching from the northern corner of Dolores and Cesar Chavez to the edge of Cortland and Bocana, the Northwest Slope is the largest of our Bernal areas on our map covering 133 acres. Known to house the iconic Mitchell's ice cream store and also home to a series of hidden staircases and slides, this area has plenty of diversity, charm, and retail. Good news for residents of the Northwest slope. In the past 12 months this area had the highest median sale price of $1,976,000 and was home to the highest single-family home sale of $5.6 million.
Median home sale: $1,976,000 
Median $ per sqft: $1,015.24
Days on Market: 12
Homes Sold: 28
2. North Slope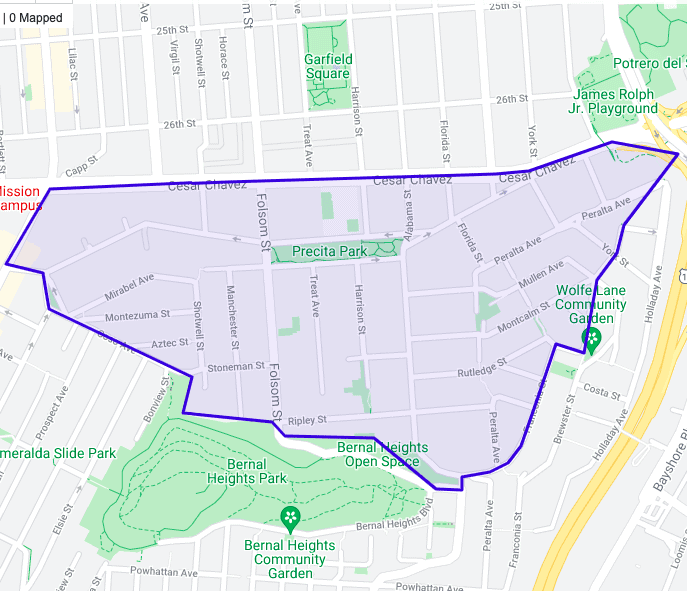 This is the second-largest micro hood covering 120 acres. The North slope is centered around the family and dog-friendly Precita park and stretches from the Cesar Chavez thoroughfare to the top of Folsom St. It is home to Precita Park Cafe, Harvest Hills Market, and Marlena's comfort California cuisine restaurant. In the last 12 months, homes in the north slope had the lowest average sale to list price with homes selling 2.08% over asking price.
Median home sale: $1,850,000
Median $ per sqft: $989.64
Days on Market: 15
Homes Sold: 35
3. East Slope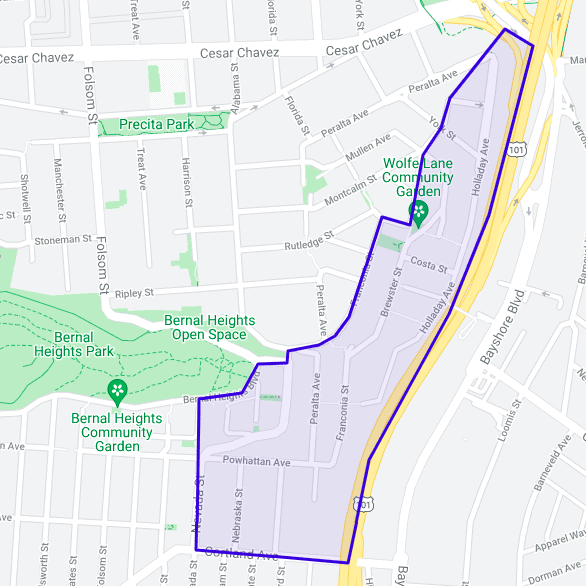 The East slope extends from the Bayshore freeway spaghetti junction along the 101 to the corner of Nevada and Cortland. This encompasses the Wolfe Lane community garden and the secluded hidden streets of Holladay and Carver. Residents of the East slope enjoy a down-tempo existence and views of the bay and nightime lights from the freeways.
Buyers have a good chance of getting more for their money on the East slope as homes have the lowest cost per square foot. The median price psqft is $896.11. $134 less per foot than homes on the South Slope.
Median home sale: $1,600,000
Median $ per sqft: $896.13
Days on Market: 13
Homes Sold: 27
4. South Slope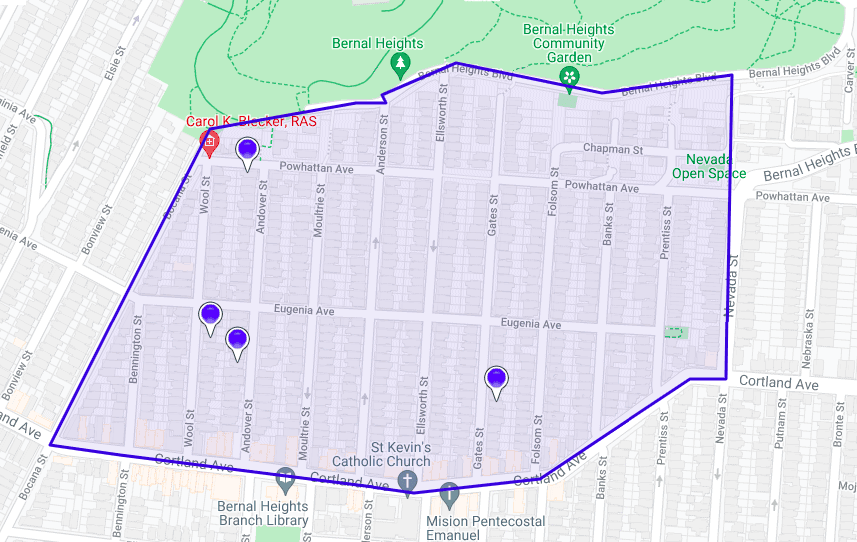 The South Slope is typically the area people think of when they think about Bernal Heights. The south slope includes Cortland avenue with it's slew of coffee shops and restaurants and extends northwards towards Bernal Heights hill. Homes on the south slope sell quickly, with a median 11 days on market. Homes on the south slope also have the third highest median sale price of $1,750,000. This is Bernal's smallest region with just 47.6 acres.
Median home sale: $1,750,000
Median $ per sqft: $1,129.48
Days on Market: 11
Homes Sold: 24
5. Holly Park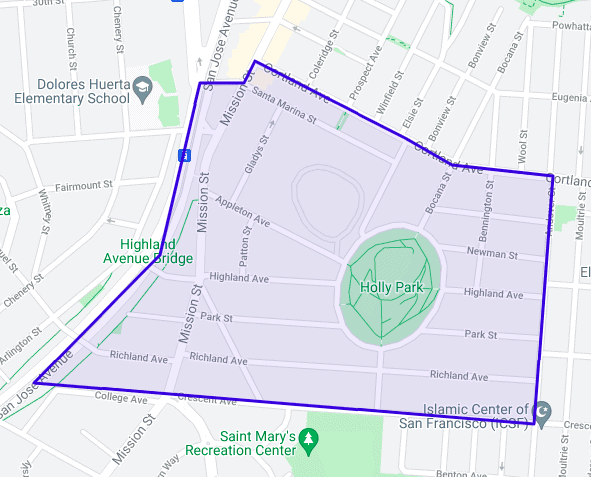 Holly Park takes pride in being home to one of the oldest city parks. It was donated in 1862 by James Graham Fair. Today, the park is home to a mini-baseball diamond, a play area and tennis courts. The Holly Park microhood centers on the park and extends east from San Jose avenue over Holly Hill to its western edge at Andover St. This area has access to Mission street public transportation, Balompie cafe, and Cafeto coffee shop. Holly Park homes sell quickly with a median of 10 days on the market.
Median home sale: $1,585,000
Median $ per sqft: $1,082.47
Days on Market: 10
Homes Sold: 35
6. South of Cortland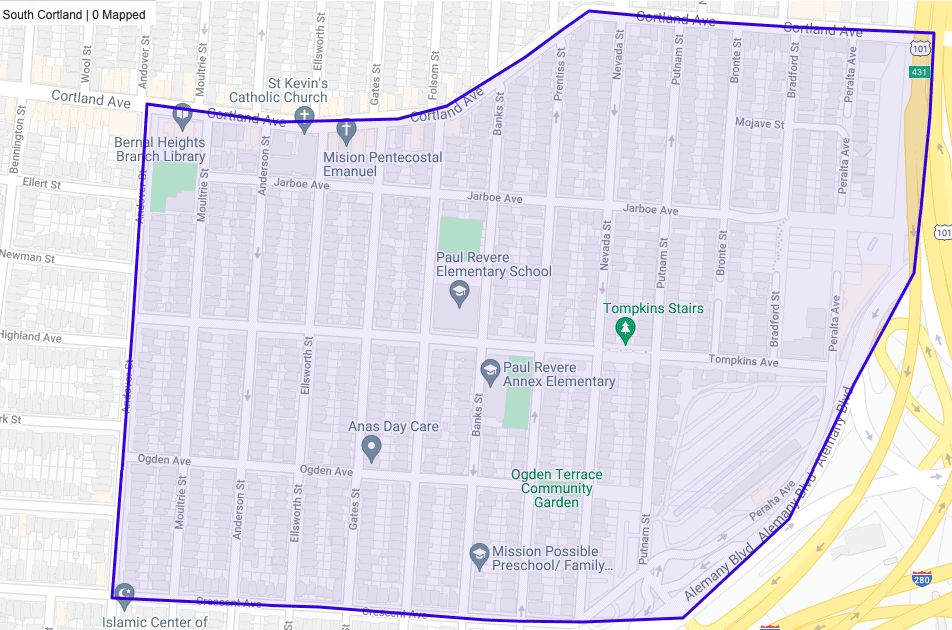 Extending east of Andover and north of Crescent all the way to the freeway is South Cortland. This area is home to Paul Revere Elementary school and the Ogden Terrace Community Garden. In the last twelve months this 89 acre area has been the most active for home sales. 48 single family homes sold with a highest value of $2.75M.
Median home sale: $1,432,500
Median $ per sqft: $1,071.21
Days on Market: 13
Homes Sold: 48
7. St Mary's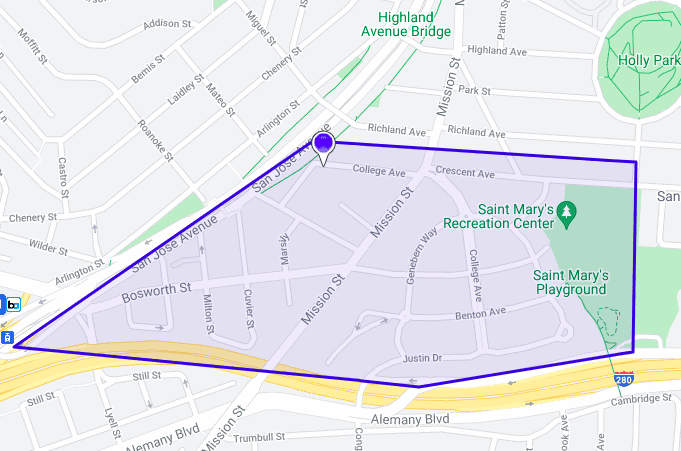 St. Mary's is pinched between San Jose Avenue and St Mary's park. At its center is a collection of 320 single-family homes lined around a bell-shaped street. These detached homes often have their original red-tiled roofs and the neighborhood is known for a high concentration of original owners. It has the second-lowest price per square foot $957.03 and the second-lowest median sale price of $1,307,000.
Median home sale: $1,307,000
Median $ per sqft: $957.03
Days on Market: 13
Homes Sold: 21
8. South of Crescent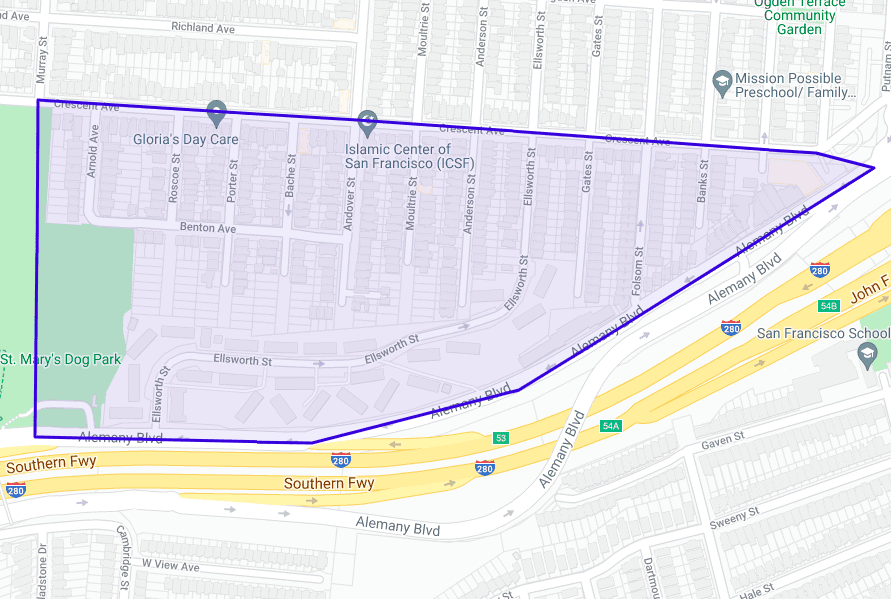 South of Crescent is our second smallest area with just 49.1 acres. It runs, as you guessed, south of Crescent to the freeway and extends east from St. Mary's park to Alemany blvd. As the southernmost tip of Bernal it is home to steep hills that drop down to the 280 freeway. Partly due to its size this had the least amount of real estate activity with just 15 single-family homes sold in the last 12 months. This may be your best bet for finding a less expensive home with a median sale price of $1,200,000. It's worth noting that single-family homes in the South Crescent area while listed for less, sold on average 15% over the asking price.
Median home sale: $1,200,000
Median $ per sqft: $964.29
Days on Market: 18
Homes Sold: 215
12 months of Bernal Heights Single Family Home Sales
(May 2020 – May 2021)

---
Jennifer Burden and her mother Carren Shagley have been buying and selling houses in Bernal and beyond for over 50 years. If you are looking for a top San Francisco real estate agent – you can do no better than giving Legacy Real Estate a call at:
---