Welcome to our September update. This month, we discuss the effects of increased single-family home and condo inventory in San Francisco and how median prices remain stable despite the supply increases. We also want to address the San Francisco "exodus" as reported on by SFGate.
Should San Francisco homeowners be worried?
What are the long term effects of extended work from home policies?
Let's dive in.
INVENTORY
First, let's take a look at inventory. As you can see below the number of single-family and condo listings has reached its highest level since 2010.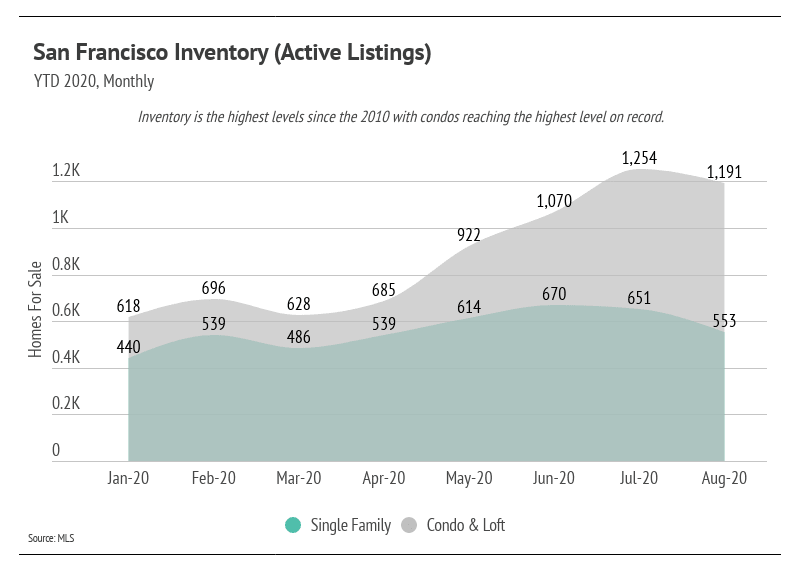 HOME PRICES
In August, single-family home and condo prices remained relatively unchanged despite more inventory coming to market.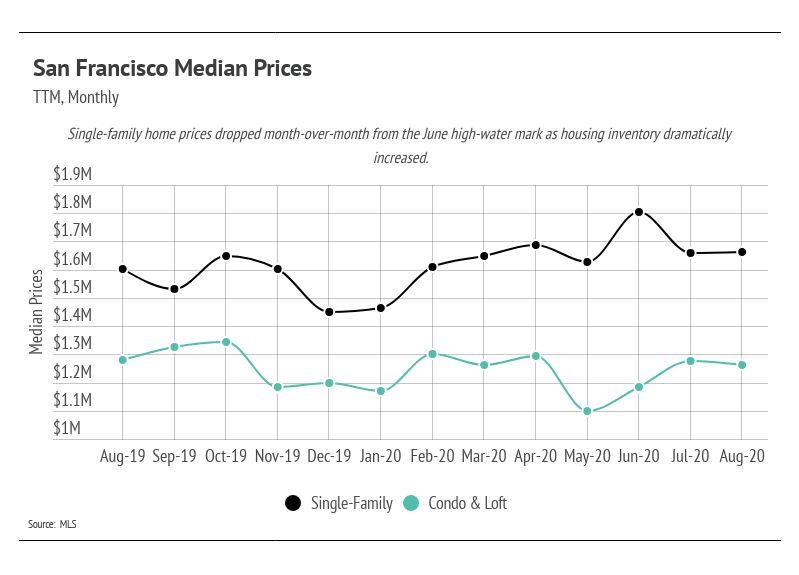 Year-over-year, single-family home prices are up 4%, while condos are down 1%.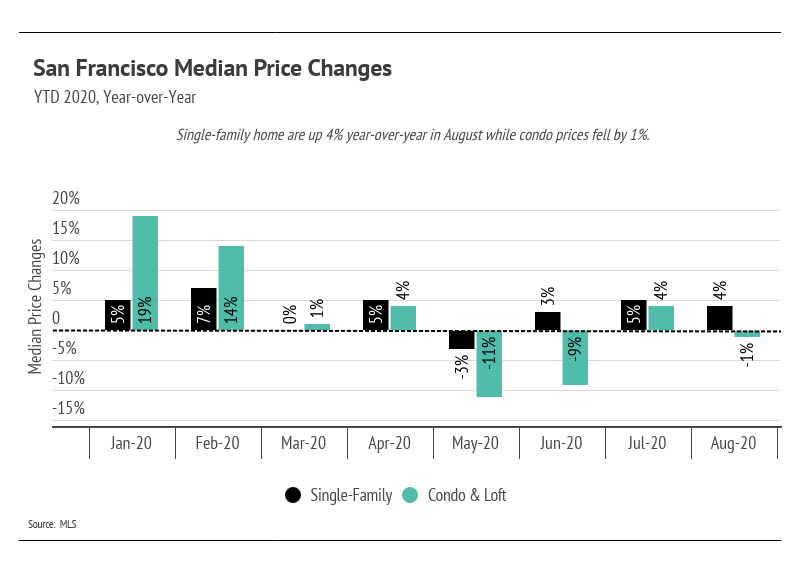 The inventory of homes for sale remains near its highest levels since 2010. Typically, a surge in supply would bring down prices; however, home owners need not be overly concerned as demand still outpaces supply even with the 40% year-over-year increase in active listings.
We will certainly be keeping an eye on the numbers.
REMOTE WORK
The pandemic tested the efficacy of large-scale remote work, causing companies to reconsider the need for massive office spaces. Notably, Pinterest announced in late August 2020 that it paid $89.5 million to terminate its lease on a yet-to-be-built 490,000 square foot office space. The choice reflects Pinterest's reevaluation of its workforce needs, and its realization that more employees can work from home on a regular basis. Pinterest is showing another "new normal" for companies: hiring employees from different parts of the country without requiring those employees to relocate near the office. As a result, companies and employees are even less restricted by geographic location than they ever have been in the past.
AN EXODUS?
SFGate reports that San Francisco is not going through an abnormal population exodus; rather, San Francisco simply is not seeing the usually high number of people moving to the city. The effect remains mostly the same in that there is less renter demand, which has caused one-and two-bedroom apartment prices to drop around 15% year-over-year.
Although fewer people moving to the city sounds like it would lower the demand for homes and, therefore, decrease home prices, the median home price has actually remained stable through August. In order to explain why prices have not changed, we can look to affordability. According to the California Association of Realtors, a median homeowner needs to earn a minimum income of $322,000 and be able to pay $8,000 per month for mortgage, taxes, and insurance. This type of wealth is far different than the average renter, who now pays less than $3,000 per month.
Unlike many other cities around the country where the cost of a mortgage is similar to the cost of rent, San Francisco maintains a large gap between those that can afford rent versus those that can afford a mortgage. The rental market, which is receiving a lot of press for its steep decline, does not foreshadow a decline in single-family home prices.
---
Moving forward, we anticipate new listings to slow until excess inventory lowers. Home prices will likely remain stable without outsized gains or losses year-over-year.
As always, we remain committed to helping our clients achieve their current and future real estate goals. Our team of experienced professionals are happy to discuss the information we have shared. We welcome you to contact us with any questions about the current market or to request an evaluation of your home or condo.