Welcome to our October market update. As we move into the later months of the year, there are significant changes to both our Bay Area weather as there is in housing. Fall is in full force. Let's see how it affects the forecast for the autumn housing market.
Overall, the market has shown significant price growth over the second quarter, showcasing the strength and stability of San Francisco residential real estate. Year-over-year sales have increased considerably through the summer months. We believe the housing market is positioned for continued growth in both sales and price appreciation.
Have any questions about what the market means in terms of your real estate goals? Drop us a line. We are here to support you and always happy to provide our honest and informed opinions.
As the market changes, we will continue to provide the most up-to-date housing information to support your buying and selling decisions. Interested in our monthly updates. SIGN UP HERE.
MEDIAN HOME PRICES
In September, single-family homes had the largest year-over-year gain of 2020, with a median home price of $1.68 million. Condo and loft prices finally saw the effects of excess supply, with the median dropping to $1.2 million.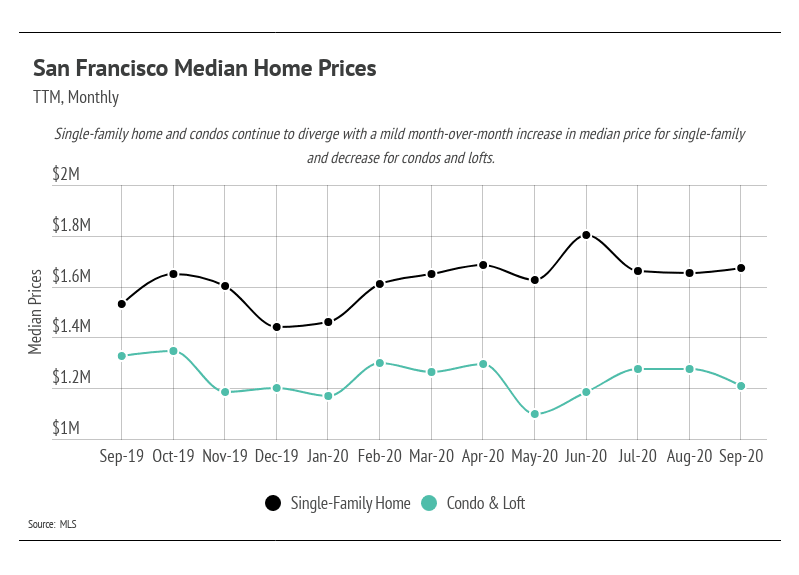 Year-over-year, median single-family home prices were up 9%, while condos and lofts were down 9%.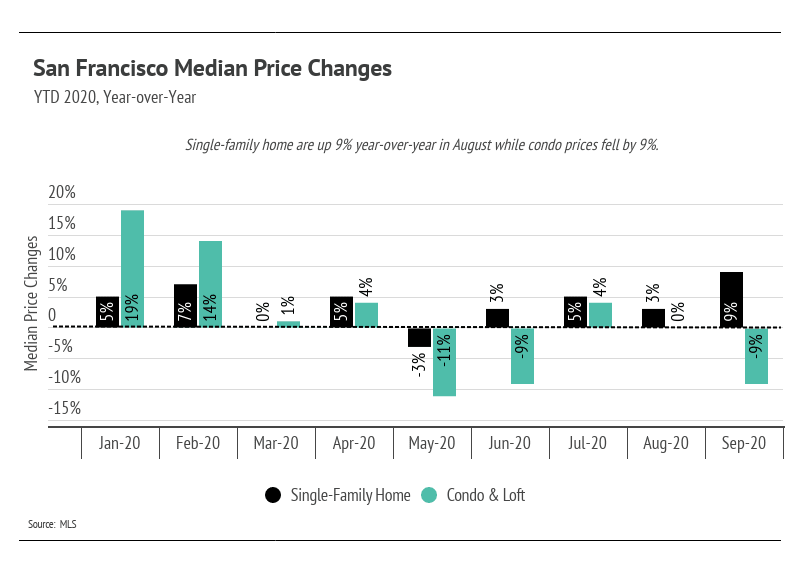 HOUSING INVENTORY
Total inventory decreased slightly in September, as the number of homes under contract rose for both single-family homes and condos/lofts. Lack of supply compared to demand typically buoys San Francisco's prices, and this is still the case for single-family homes.
The number of condos and lofts on the market, however, remains near its highest level since 2010. The drop in condo and loft prices lagged behind the run-up in supply, until recently. This makes sense, because the housing market needs time to find a new price based on the increased supply. The large supply of condos and lofts has successfully given buyers a greater opportunity to find the right home for them, which we can see by the number of homes going under contract. San Francisco has needed more supply for quite some time, so, even though the condo and loft market may have overcorrected, we are still seeing a reduction in inventory as sales increase and new listings decrease.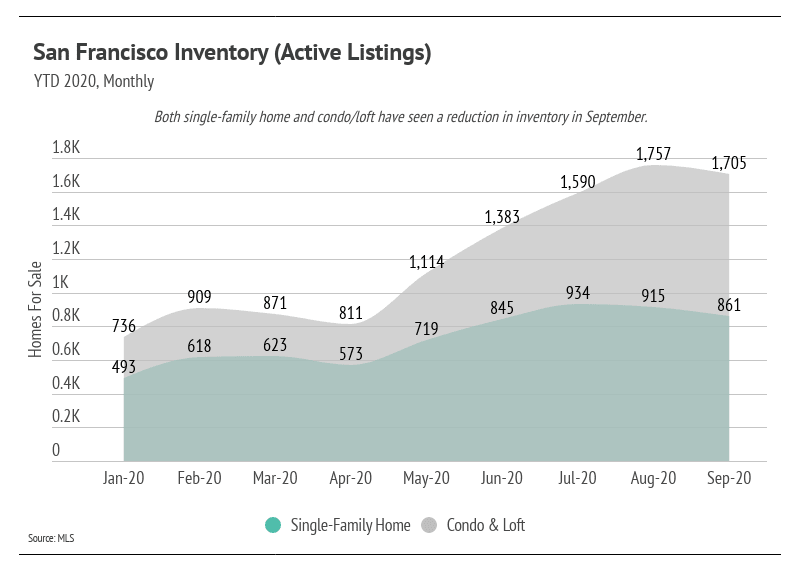 NEW LISTINGS
To understand buyer and seller sentiment, we can look at how new listings and homes under contract factor into the total inventory in a given month. Using 2019 as a normal year, relative to 2020, we can see the year-over-year abnormalities and seasonal changes.
During the initial months of the pandemic (March and April), buyers and sellers hesitated to enter the market or withdrew from it entirely. Buyers of both single-family homes and condos/lofts mostly stayed out of the market from March through May, causing inventory to build.
New listings for single-family homes increased significantly in June and July, but were met with a dramatic increase in sales. Condos and lofts experienced the opposite in terms of buyer activity: new listings began to climb in May, without a similar gain in buying activity until August. With the high level of inventory in San Francisco, the year-over-year new listings in September declined for both single-family homes and condos/lofts.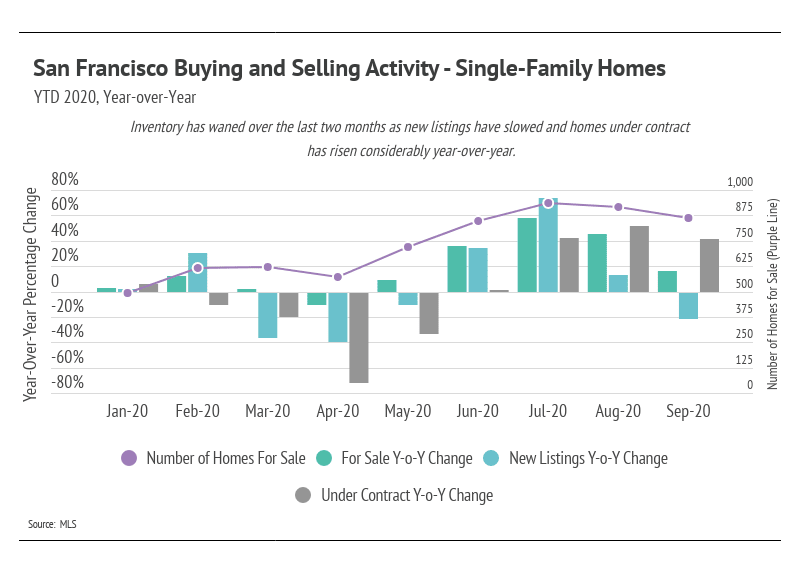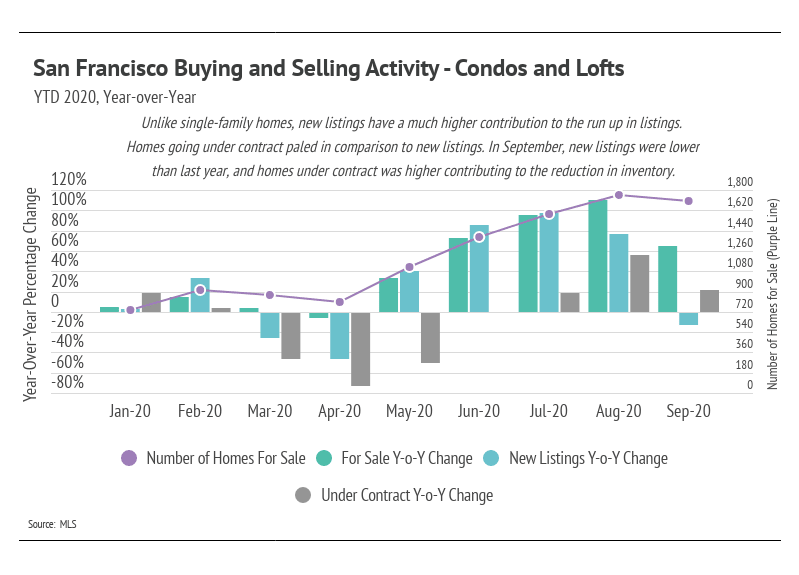 DAYS ON MARKET
The Days on Market (DOM) trended down in September as buying activity increased. Demand in the area is picking back up, which is reducing the Months of Supply Inventory. In September, single-family homes under contract were up 41%, with contracts on condos and lofts up 21%, showing the high demand in the area.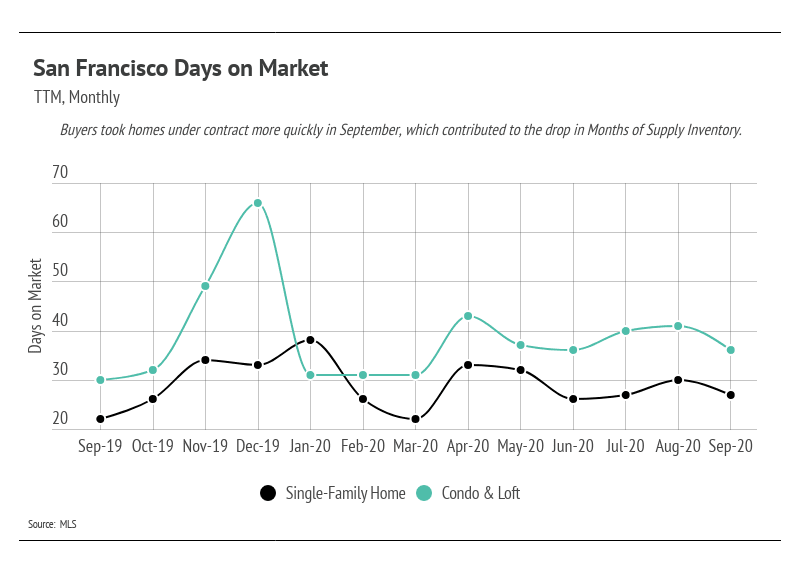 MONTHS OF SUPPLY
We can look to Months of Supply Inventory (MSI)—the measure of how many months it would take for all current homes for sale on the market to sell at the current rate of sales—as a metric to judge whether the market favors buyers or sellers. The average MSI is three months in California, which indicates a balanced market. An MSI lower than three means that buyers are dominating the market and there are relatively few sellers (a sellers' market), while a higher MSI means there are more sellers than buyers (a buyers' market). In September, the MSI for single-family homes decreased to 2.2, favoring sellers once again. The MSI for condos/lofts fell to 4.7, still favoring buyers even though there was high inventory. This is because the pace of sales also increased.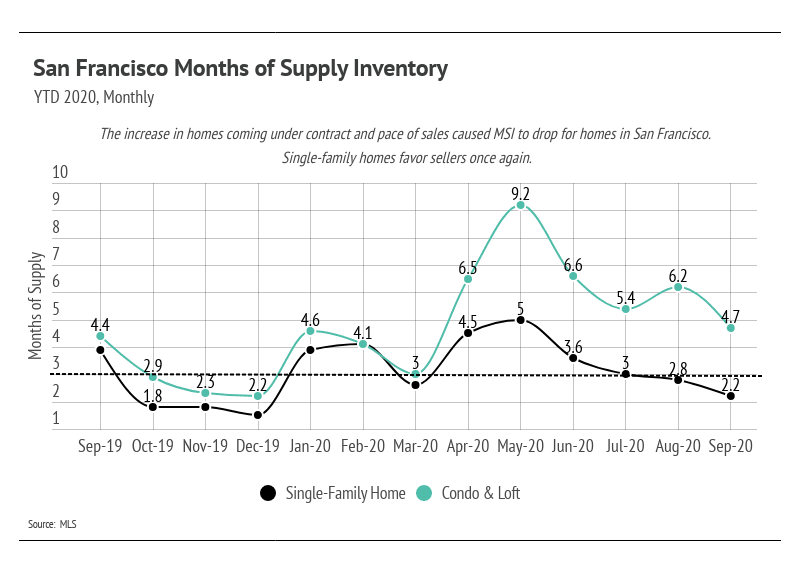 In summary, the high inventory levels have made the condo/loft market favor buyers. The single-family home market, however, once again favors sellers in San Francisco. Overall, the housing market has shown its resilience through the pandemic and remains one of the safest asset classes. As we digest seemingly endless stories on negative economic data, we are pleased to report that homeownership has offered a sense of stability.
MOVING FORWARD
Moving forward, we anticipate new listings to slow until excess inventory lowers. Home prices will likely remain stable, with no outsized gains or losses year-over-year. The fall/winter season tends to see a slowdown in activity, as well, although this year we may see a new trend.
As always, we remain committed to helping our clients achieve their current and future real estate goals. Our team of experienced professionals are happy to discuss the information we have shared in this newsletter. We welcome you to contact us with any questions about the current market or to request an evaluation of your home or condo.