As your local real estate experts, we feel it's our duty to give you, our valued client, all the information you need to better understand the complex San Francisco real estate market. Whether you're buying or selling, we want to make sure you have the best, most pertinent information, so we've put together this monthly analysis breaking down specifics about the market. It's all part of our mission to give you the very best in personalized service. We would love to know what you think!

– Carren Shagley & Jennifer Burden, DRE #0858254 / DRE #01407698
Special Mid-Year Edition: San Francisco Real Estate in the First Half of 2019
Welcome to our July newsletter. In this month's issue, we recap the last six months of 2019 for the San Francisco housing market and make some predictions about the second half of the year.The early months of the year showed a soft and slowing market driven by higher interest rates, softening demand, and news that prices had no more room to grow. We reported that the predicted Federal Reserve interest rate hikes would cause a slow down in price appreciation, that buyers and sellers should temper their expectations going forward, and certainly not expect housing prices to double again over the next six years like they did the last. In February 2019, single family home prices in San Francisco were down 11 percent from their April 2018 highs.

By Spring, things began to turn around. In March, the 30-year mortgage rate plummeted. In the last week of March, rates had their biggest weekly drop in a decade. Since then, rates have gone even lower. 30-year fixed mortgage rates are now the lowest they have been in two years.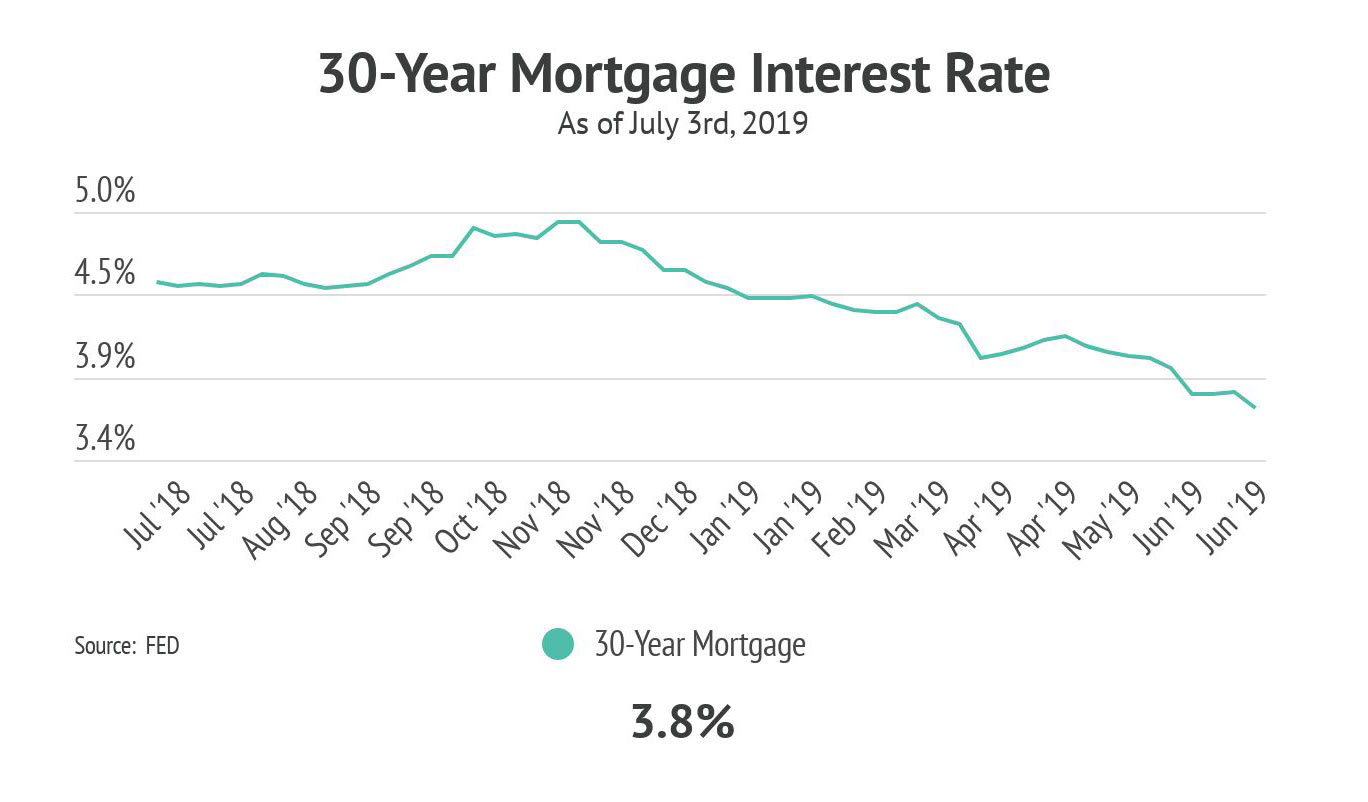 Two years ago, when rates were this low, the San Francisco housing market was white-hot. Low rates were helping home buyers to finance more expensive homes, and sellers were able to ask higher prices when they sold.
That's why the rest of 2019 shows market dynamics propping up home prices further to record highs. Freddie Mac recently noted an increase in both purchasing activity and loan amounts, reflecting continued support for the sector. Freddie Mac attributed low mortgage rates, strong job market, solid wage growth, and consumer confidence to the support.
The latest figures from the San Francisco MLS show the city's median single-family home price is up 9 percent to $1.77 million in June compared with a year earlier.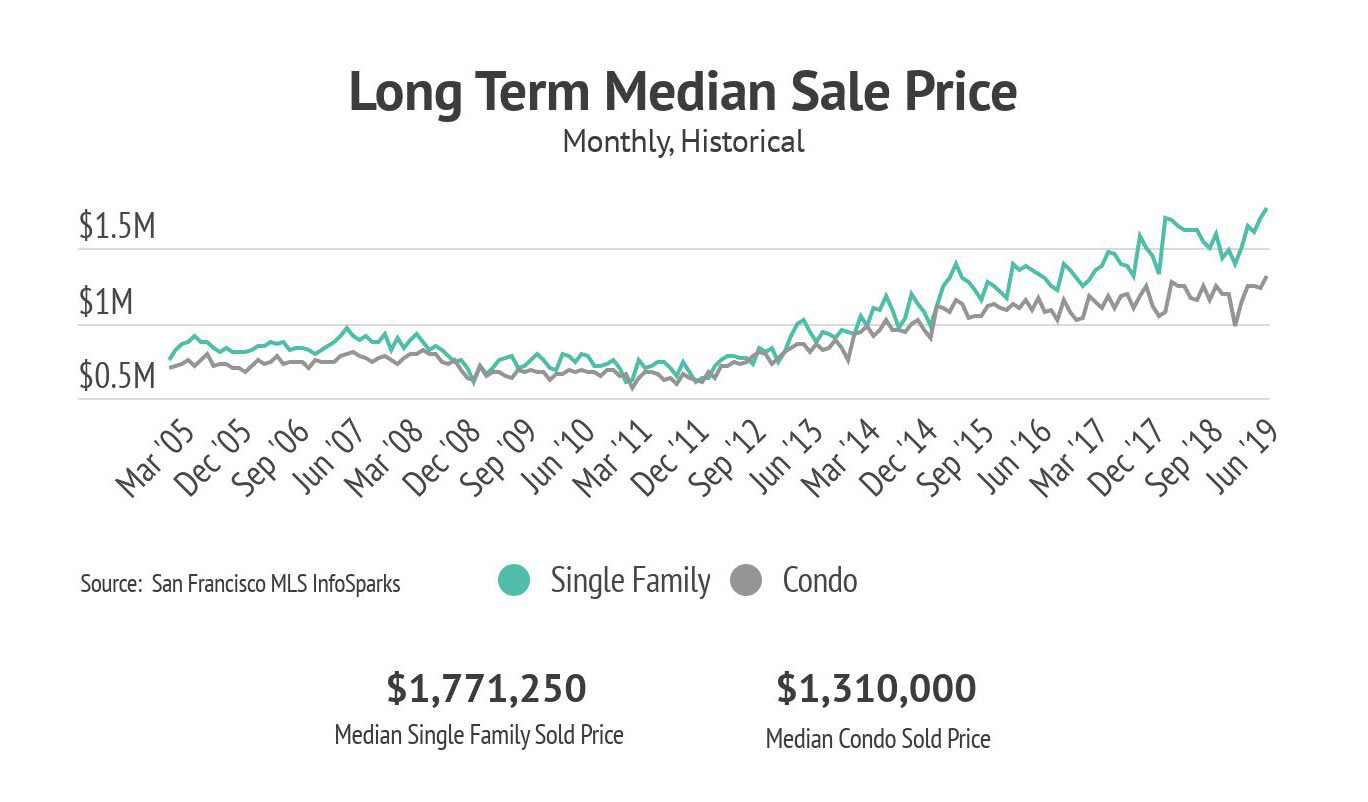 This is a big reversal from the beginning of 2019 and an even bigger month-over-month gain in median home prices. Now that we are at the midpoint of the year, let's take a look at the affordability of the median single family in San Francisco.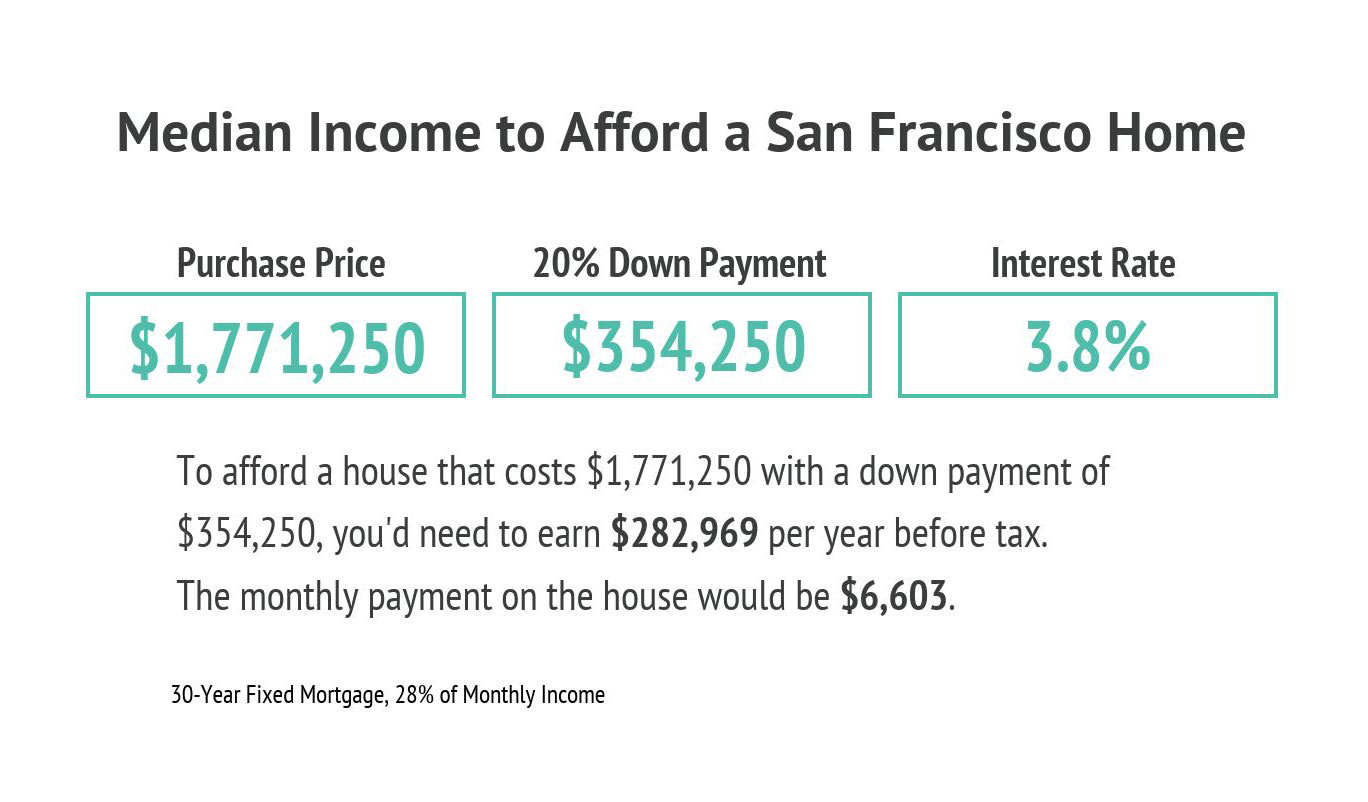 Median home prices in San Francisco are one of the highest in the country, and San Francisco rents are following suit. San Francisco's median rent prices across several online rental platforms hit all-time highs. The median price of a one-bedroom San Francisco set an all-time record at $3,720 per month in June. As we move through summer, prices are up across the board.
Another story we've been covering over the first half of 2019 is the recent stock market debuts of San Francisco's Uber, Lyft, Pinterest, and Slack — collectively worth more than $120 billion. It would be unwise to think that the influx of liquid wealth will not have a substantial impact on the San Francisco real estate market.
Later this year, we will see the expiration of employee lockup periods, which prevent employees from selling stock until six months after initial public offerings.
Lyft has had the toughest start, trading below its IPO price since it's debut. Pinterest, Uber, and Slack are all trading up slightly.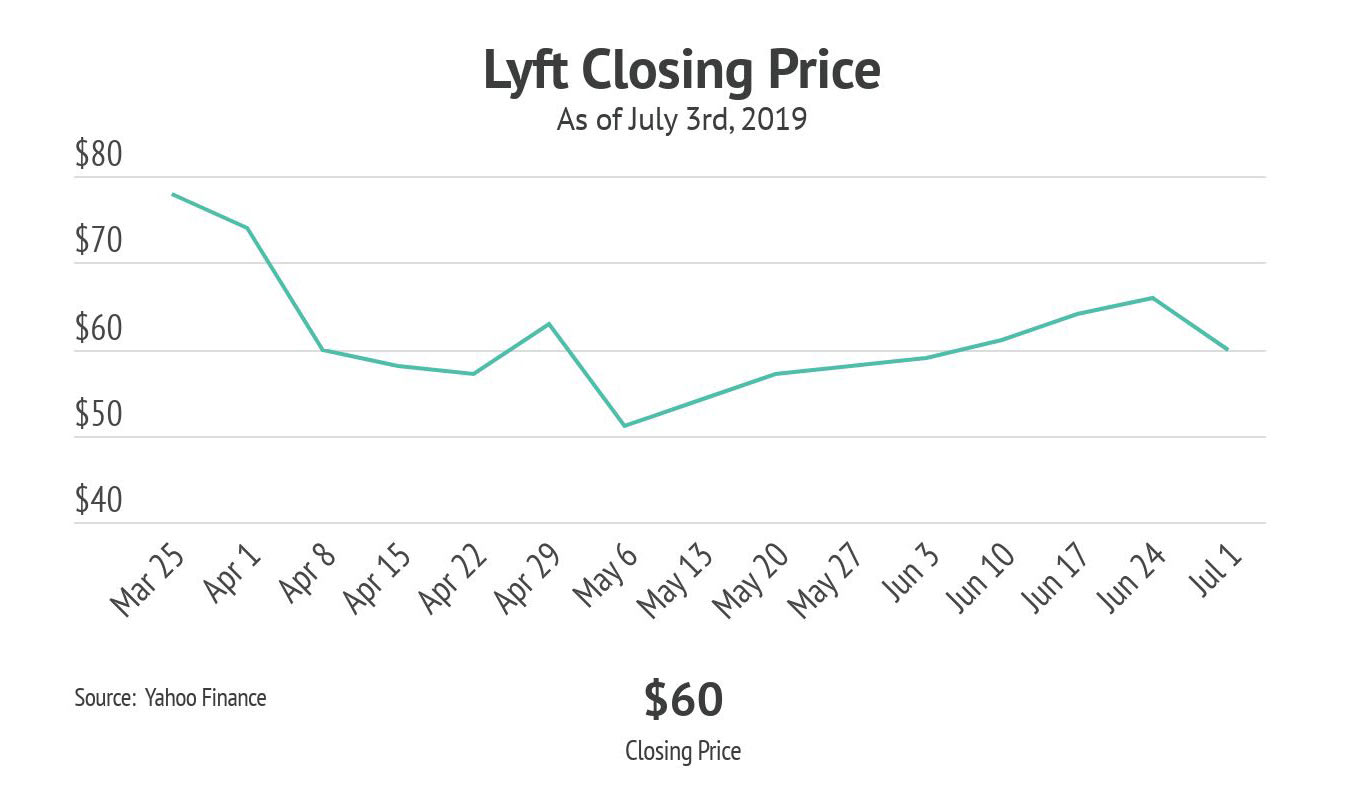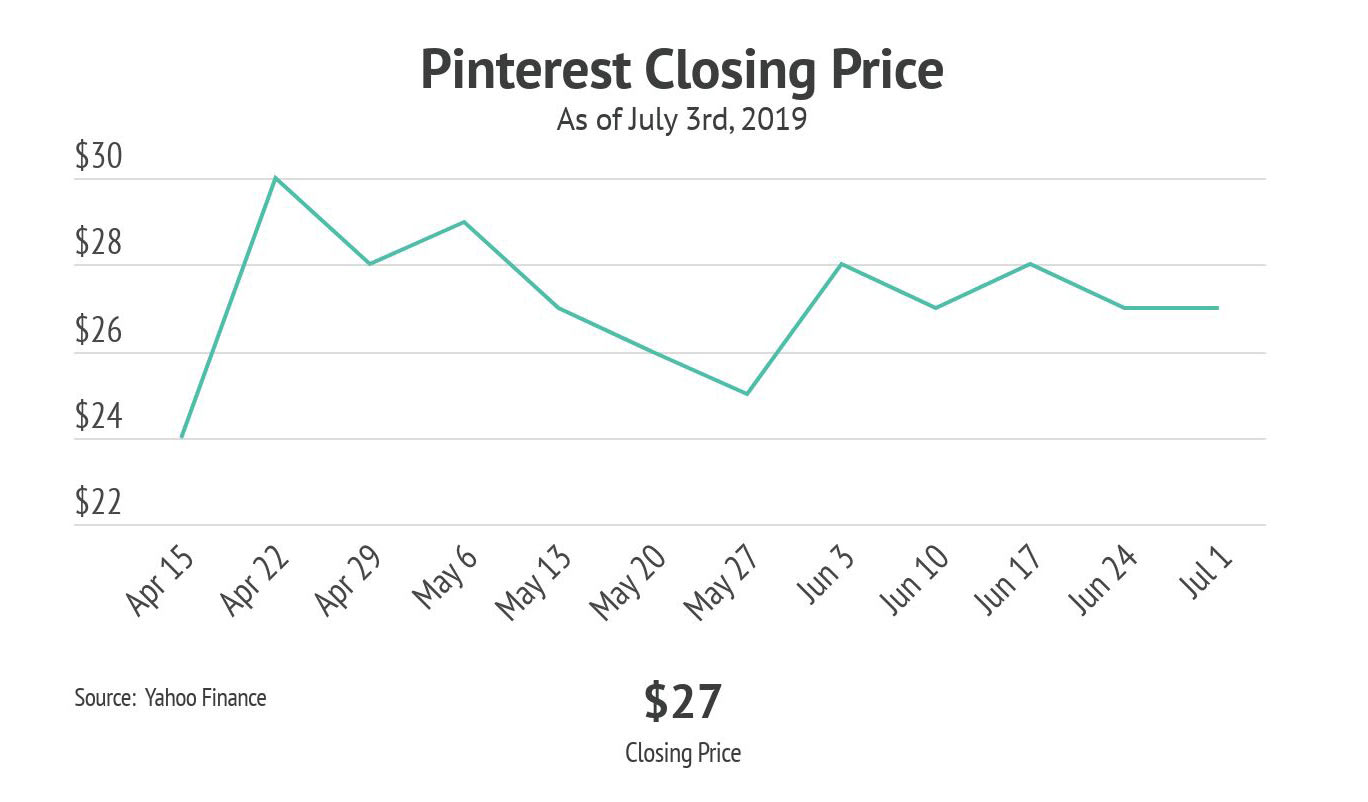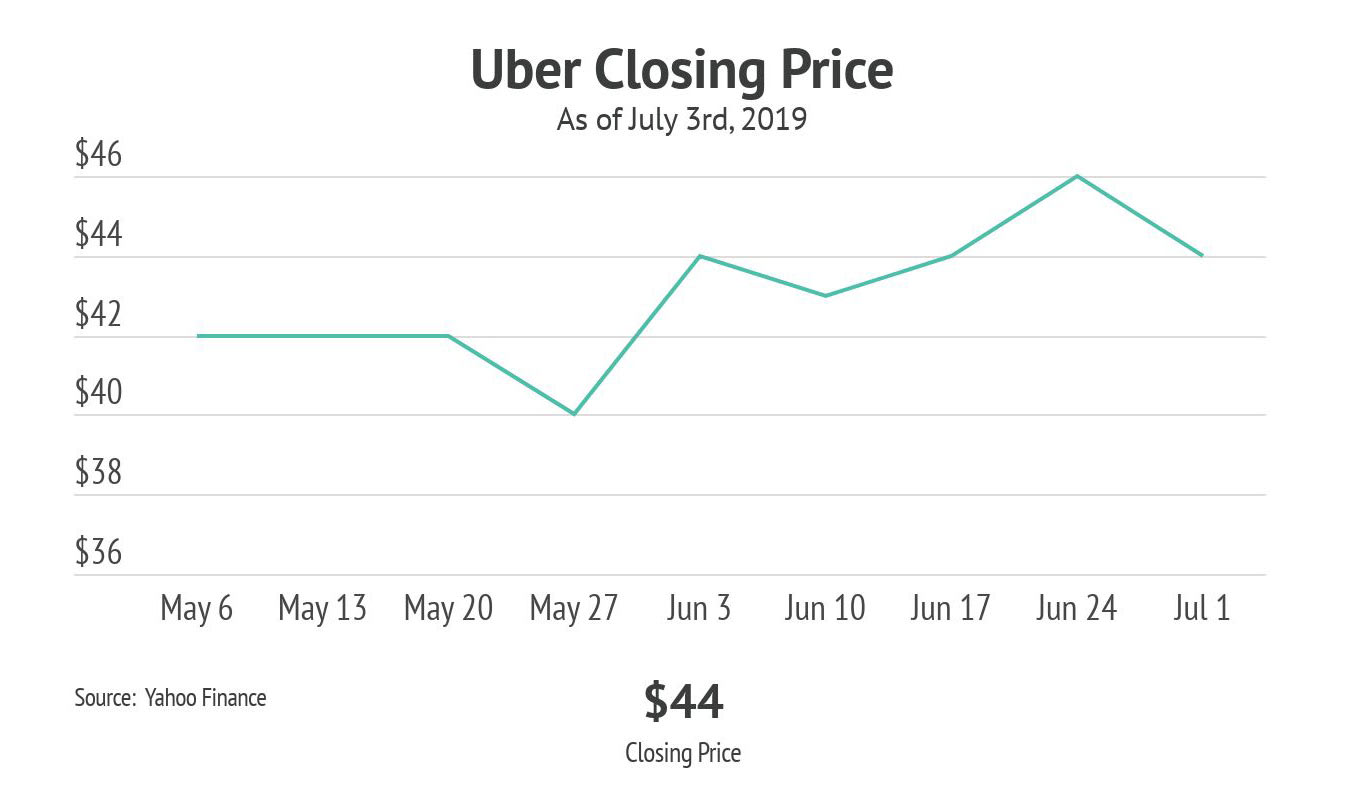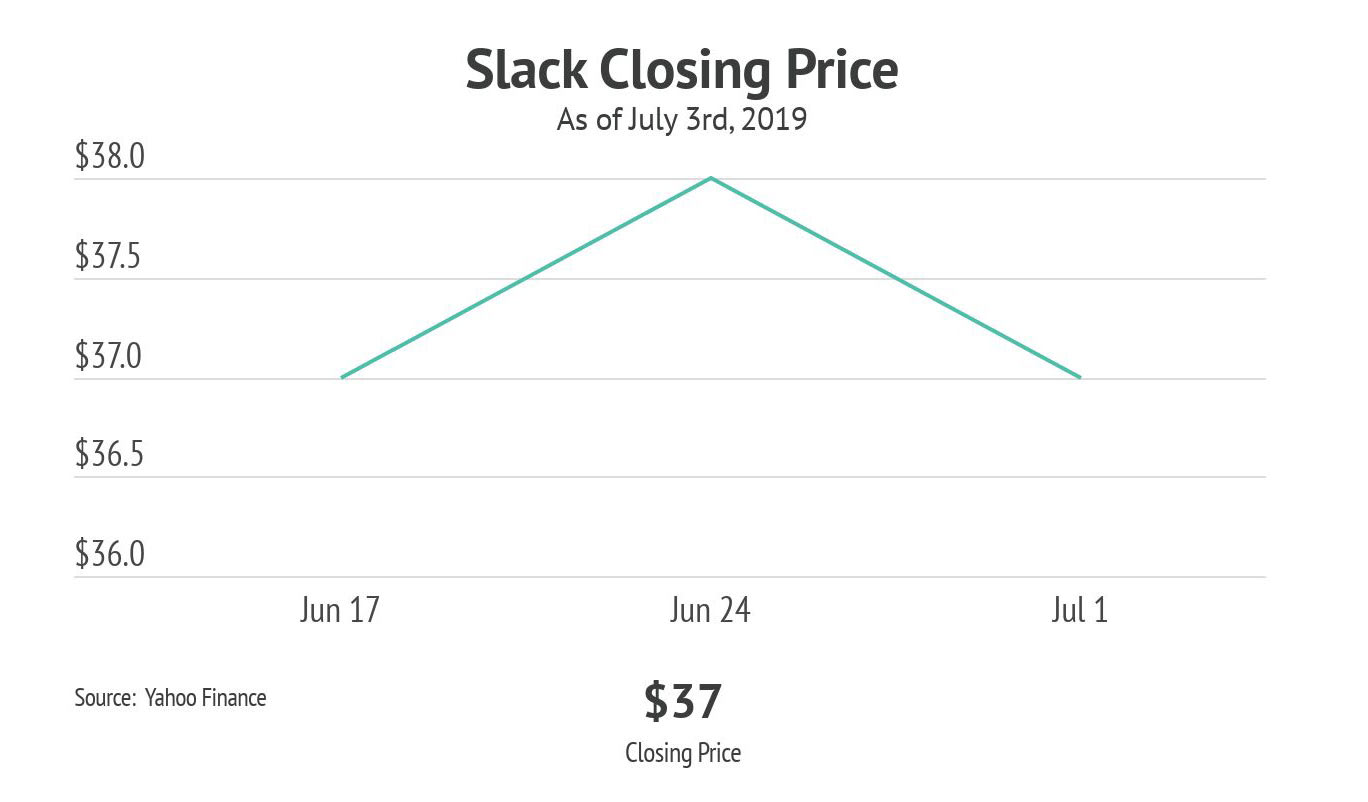 In April, we reported that San Francisco home buyers who live in areas with a higher concentration of employees from companies planning to IPO this year may want to consider beating the rush. Facebook's IPO in 2012 raised home values by 25 percent in some neighborhoods like Menlo Park and Palo Alto. While the impact on San Francisco was smaller, it still created an uptick in housing prices throughout 2012 and 2013.
In May, we reported that  the City and County of San Francisco's Chief Economist, Ted Egan, estimated that the Uber, Lyft, and Pinterest initial public offerings would lead to a 0.5 percent to 1.9 percent increase in housing prices.
Now, let's review last month's numbers. To start, we look at key metrics that indicate a Buyers vs Sellers market.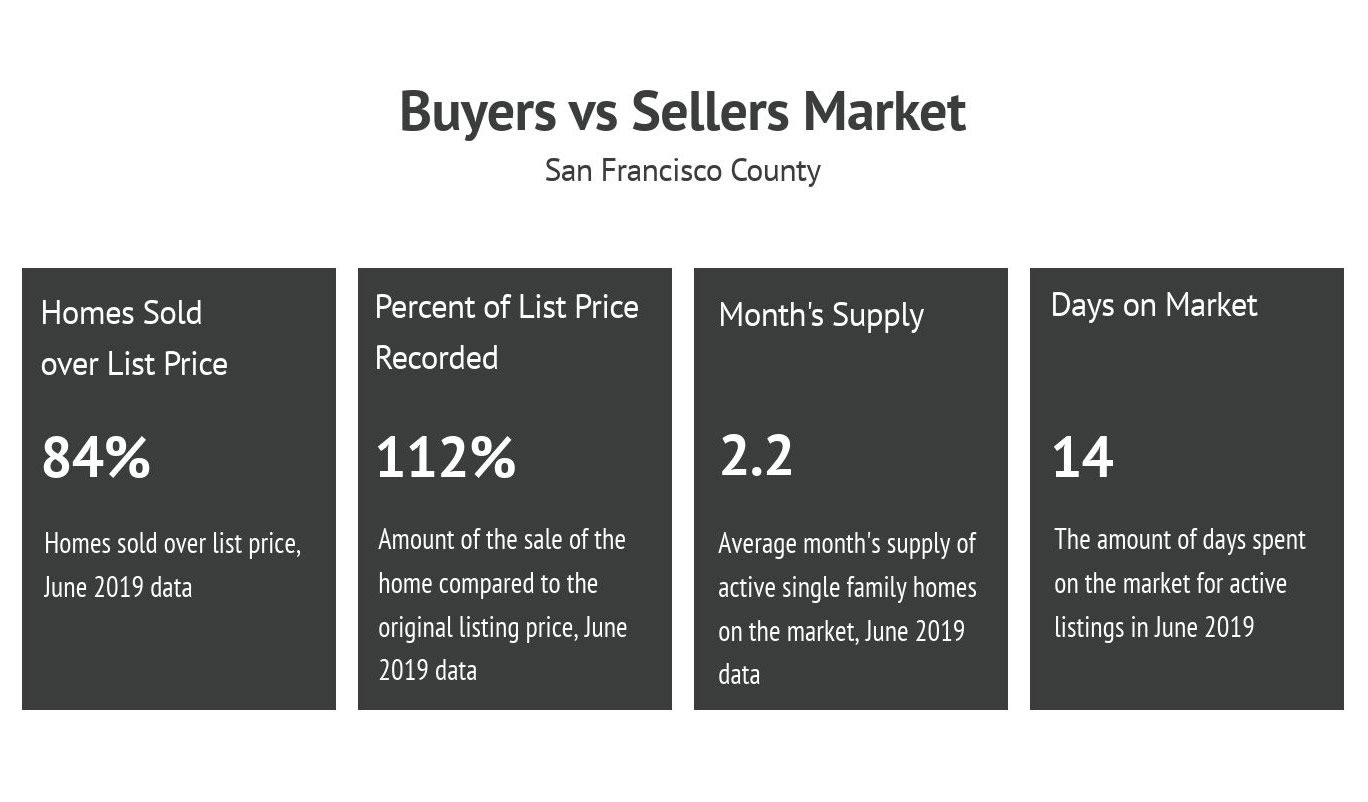 San Francisco County is an archetypal sellers market heading into summer. Over 80 percent of all homes are sold above their original listing price by an average of 12 percent.
The month's supply of inventory, a good indicator of whether a particular real estate market is favoring buyers or sellers, is 2.2 months. Typically, a market that favors sellers has less than 6 months of supply.
That doesn't mean it is a bad time to buy. Interest rates are so low that the savings a homeowner receives in financing costs will most likely outweigh the premium paid over the listing price.
Home buyers will need to move quickly on a home to take advantage of cheap rates.
Let's take a closer look at June's median home prices and compare them to this time last year. Year-over-year comparisons are best because they remove changes due to seasonality.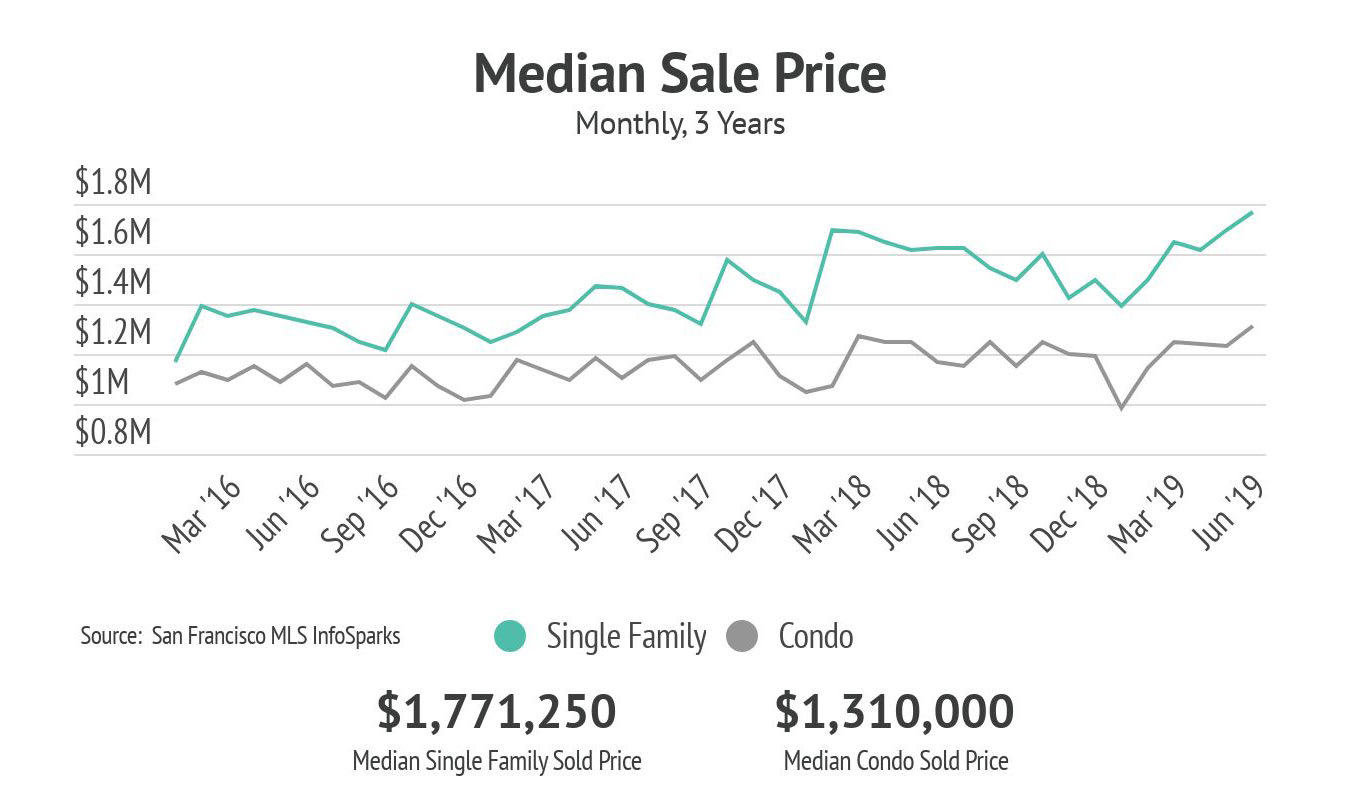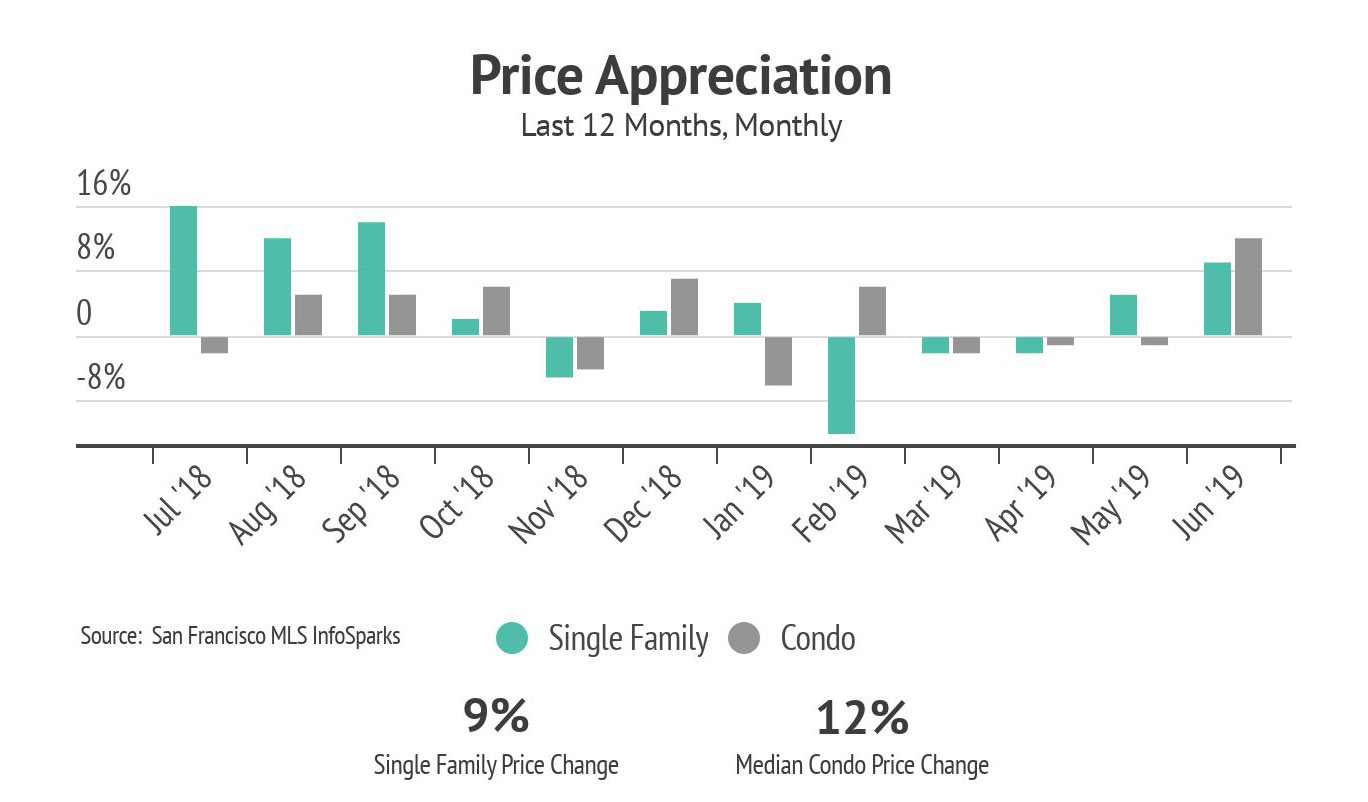 Looking at the Price Appreciation chart above, we can see year-over-year prices decreasing significantly in the winter months of this year followed by a roaring comeback through June.
Our prediction: prices will continue to inch up. The reason? Active listings, also known as inventory, continue to plummet heading into the summer.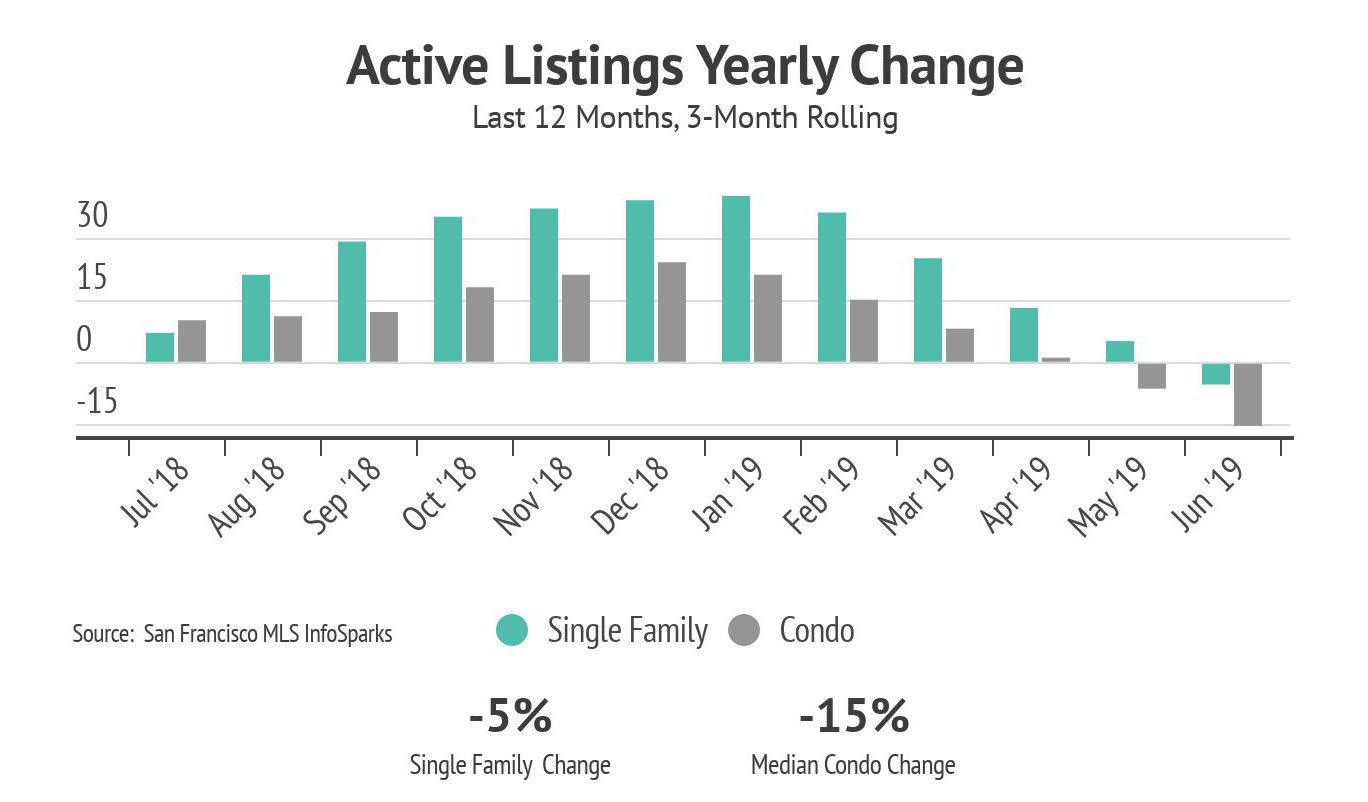 Active listings are seasonal, as shown by the chart above, which looks at the last three years of data for San Francisco. Active listings typically peak in the summer months and bottom out in the winter months.

Median home prices can sometimes follow active listings. When their are less homes on the market, the supply of homes cannot meet the demand for housing, and home buyers must pay more in competitive bidding situations.

By looking at the numbers by their year-over-year comparisons, we can see that San Francisco is shedding the excess inventory that it had this winter. The number of single family homes on the market is 5 percent lower than this time last year for single family homes, and it is 15 percent lower for condos. This is a big turnaround. Inventory was 20 to 40 percent higher in the winter months compared to 2018.

Meanwhile, sales for single family homes in San Francisco have been trending about the same as they were the previous year.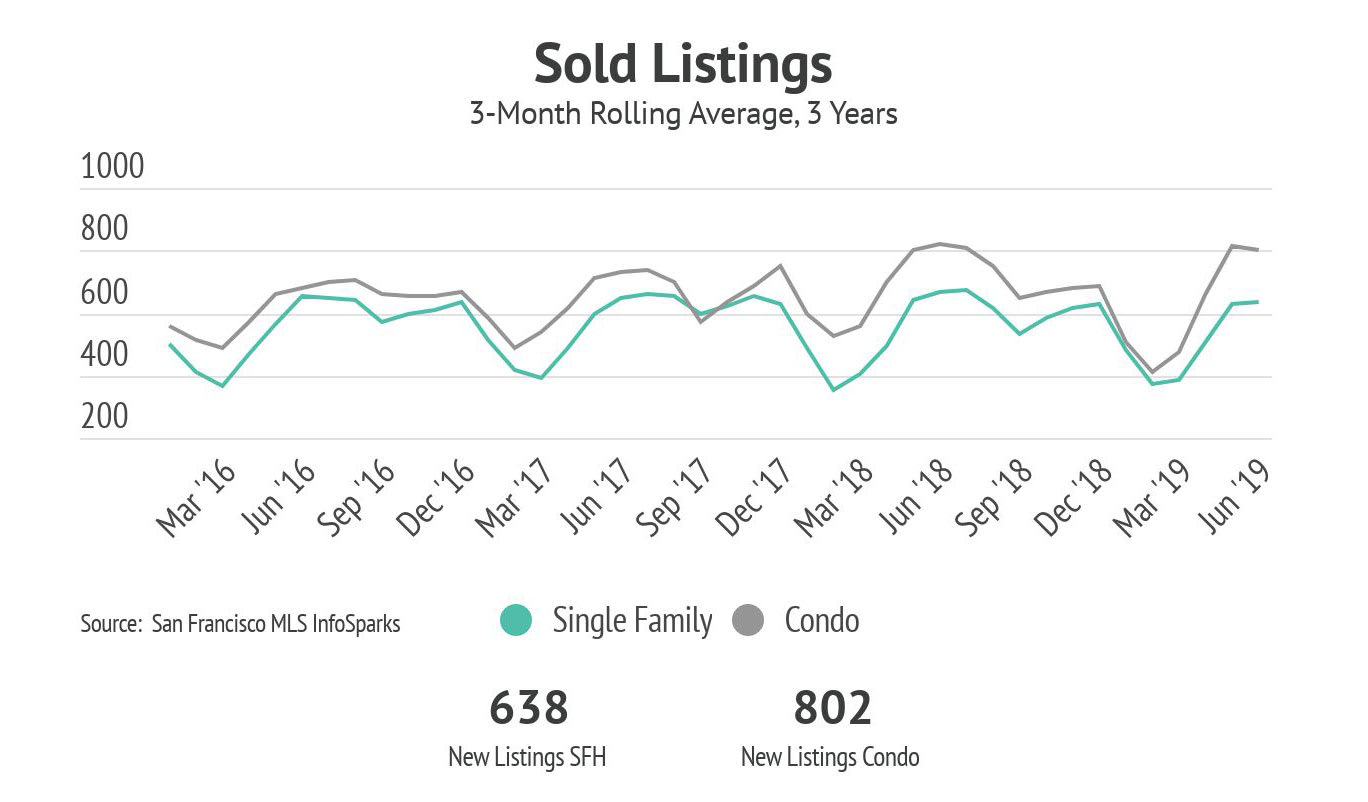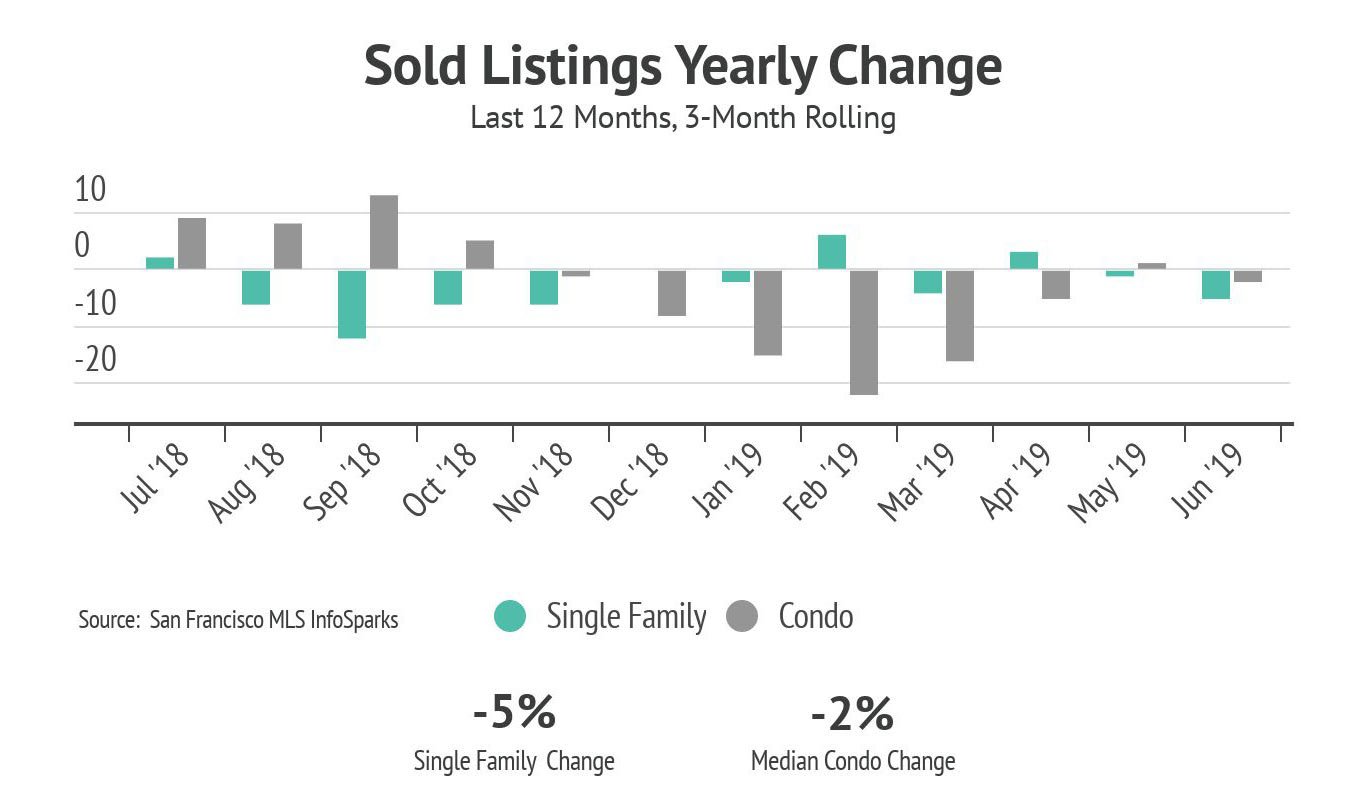 Condo sales struggled in the winter months of this year as demand fell off — most likely due to higher interest rates and the perception that prices may have peaked. In February, sales were down by over 20 percent from the previous year. However, they have turned around and are only down 2 percent compared to June of last year.
When we look back on the first half of 2019, we see a much different picture than what pundits expected. At the end of 2018, interest rates were on the rise, and consumers feared a housing market pullback. Prices started to decline, inventory increased, and demand went away as financing costs became too burdensome to afford San Francisco prices.
Six months later, things have really changed.
We can take a good look at the competitiveness in the market by looking at the chart below and the percentage of homes sold above list.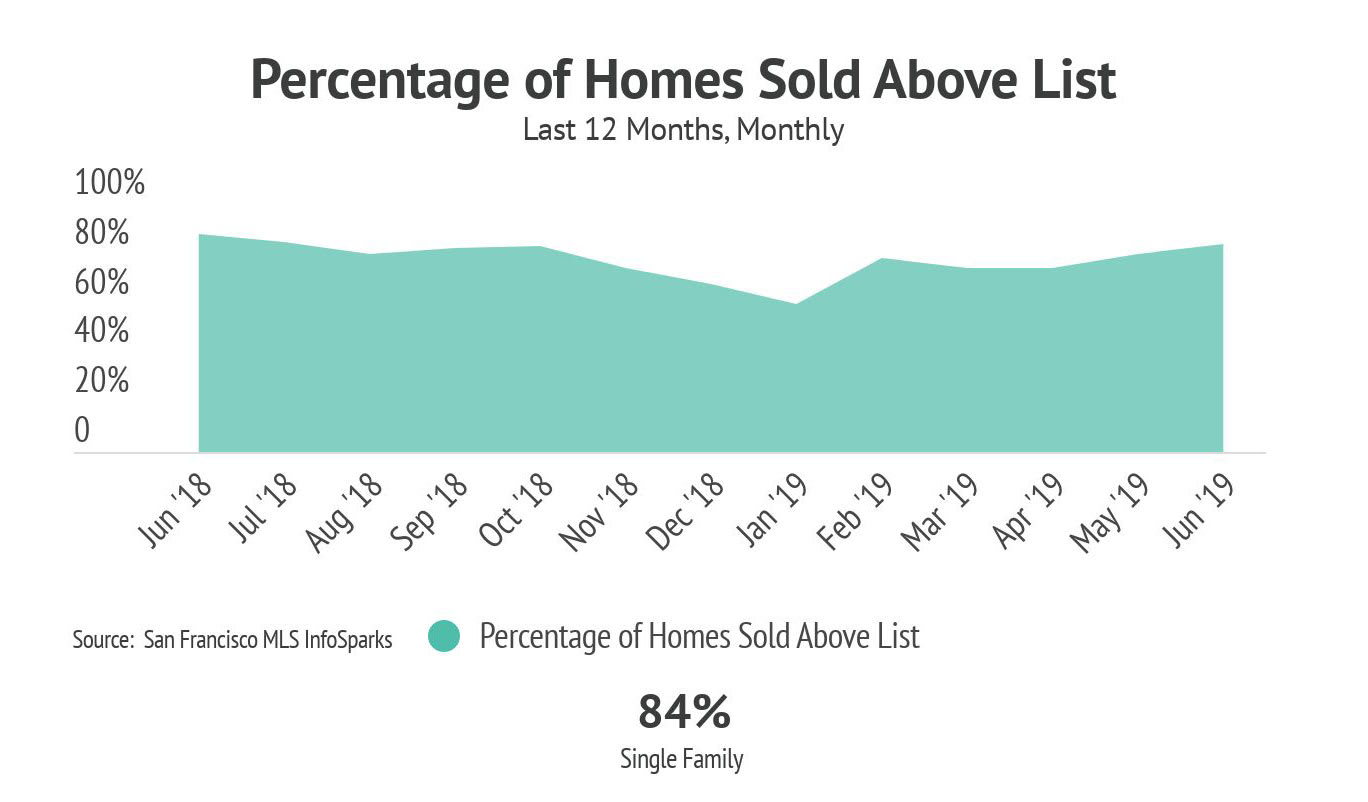 After a cool start to the year, the housing market is as competitive as it has ever been.
To close, back in February, we wrote about the "Cool Winter, Hot Summer", pointing out that the cool market for the first couple months of 2019 showed signs of a possible reversal. The stock market was performing well enough, there were future tech IPOs on the docket, and interest rates were dropping. Barring a major negative economic event, not much is standing in the way for prices to increase through the rest of the year. We are now in the longest economic expansionary period in US history, and the end does not appear to be in sight.
As one of the most experienced real estate teams in the area, we know how important it is to understand the local market dynamics. In an environment like this, where homes go quickly and prices are rising, buyers and sellers need the expertise of the most experienced agents to navigate the current housing climate.
We are dedicated to guiding our clients toward their goals, and we welcome you to contact us with any questions that you may have about the current real estate market.