We don't want to jinx anything, but we may have turned the corner on the pandemic. New cases are declining after peaking in early January, and the United States is administering over 1 million vaccinations a day. Whether we are on the back side or not, COVID-19 will have lasting effects on how we live and work. In particular, the pandemic has substantially raised housing demand. Working from home, or at least working in non-office settings, is here to stay, and all-time-low mortgage rates have incentivized renters to enter the housing market because the cost of buying may be lower than renting. For these reasons, we suspect that demand will continue to remain high through 2021.
In Brief
We are entering 2021 with a low supply of houses and unseasonably high demand for the winter months. Mortgage rates are likely to remain at their current historic lows through 2021, making rising home prices more affordable and causing more buyers to enter the market. The homeownership rate is at a 10-year high.

Single-family homes have moved back to an undersupply relative to demand, contributing to further price appreciation. Condo inventory remains high but has begun to decline.
---
February Housing Market Updates for San Francisco
The median single-family home price rose slightly, and condo prices saw a minor decline month-over-month. Year-over-year, single-family home prices increased by 9%, while condo prices declined 6%.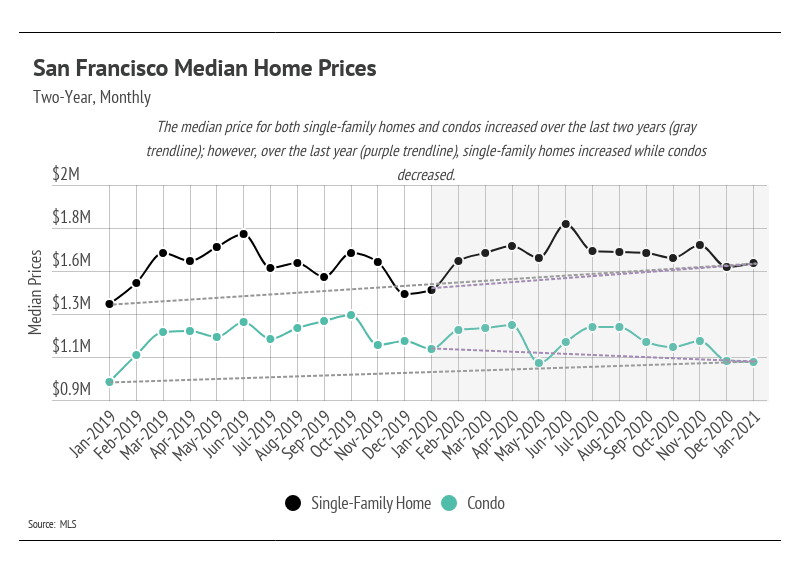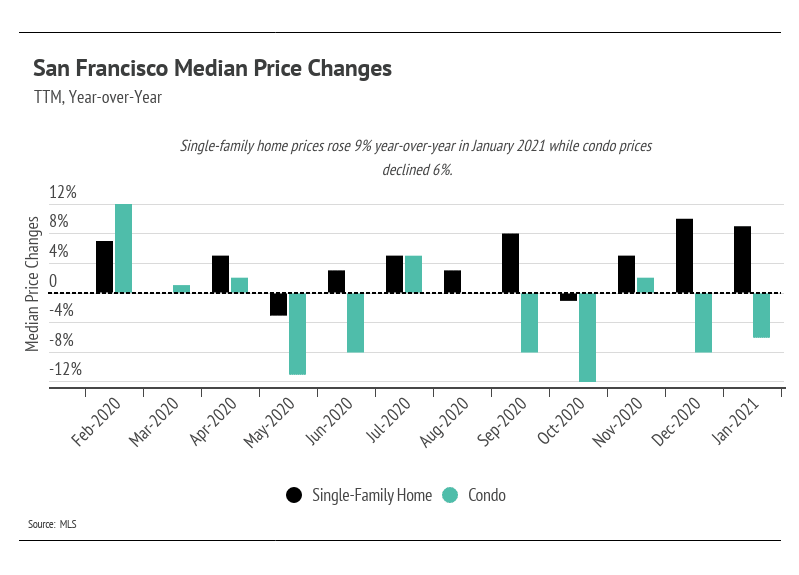 Single-Family Homes
In 2020, single-family home inventory increased to its highest level since 2011. During 2020, we saw overexaggerated reports of a San Francisco exodus when the larger issue was fewer workers transplanting to the city with the advent of near-universal remote working. From May to September 2020 (five months), inventory exploded. But we need to look at it through the lens of a city in a constant state of single-family home undersupply. Despite such a meteoric rise, inventory fell even faster than it rose, which speaks to the desirability of San Francisco. By January 2021, inventory declined to lower levels than January 2020. With such a consistently high level of demand, prices will likely continue to appreciate throughout 2021.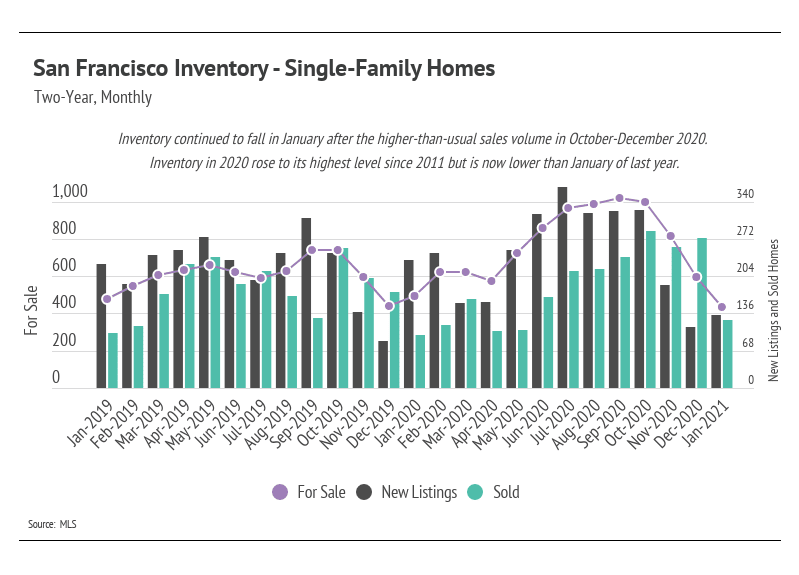 Condos
By contrast, condos are still in a state of oversupply relative to past years. Condo inventory rose from May to October 2020 (six months) to the highest level ever. Although inventory has declined significantly over the last four months, inventory in January 2021 is much higher than last year. The sustained level of excess supply has reduced prices for condos into the new year and will likely persist through the winter months.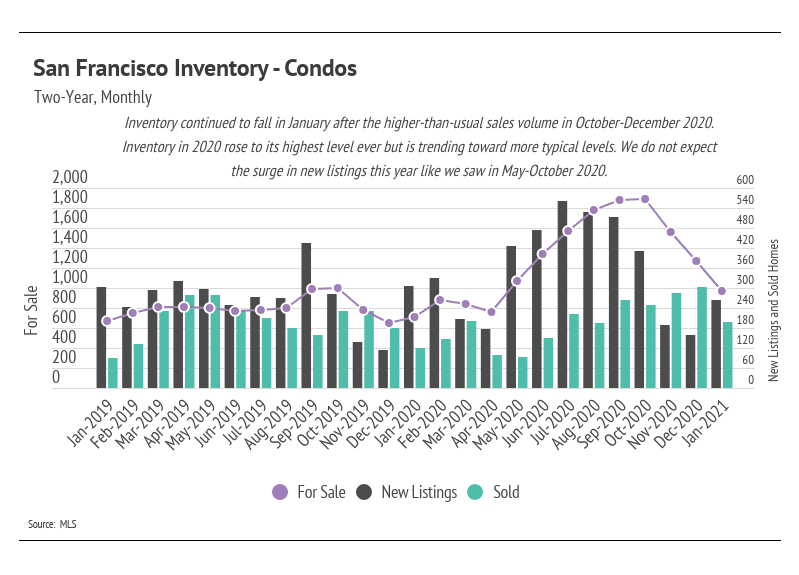 Days On Market
Days on Market (DOM) declined marginally for single-family homes relative to January 2020, while condo DOM doubled over the last 12 months. However, as inventory has shown a significant reduction, the DOM for both single-family homes and condos declined in January 2021.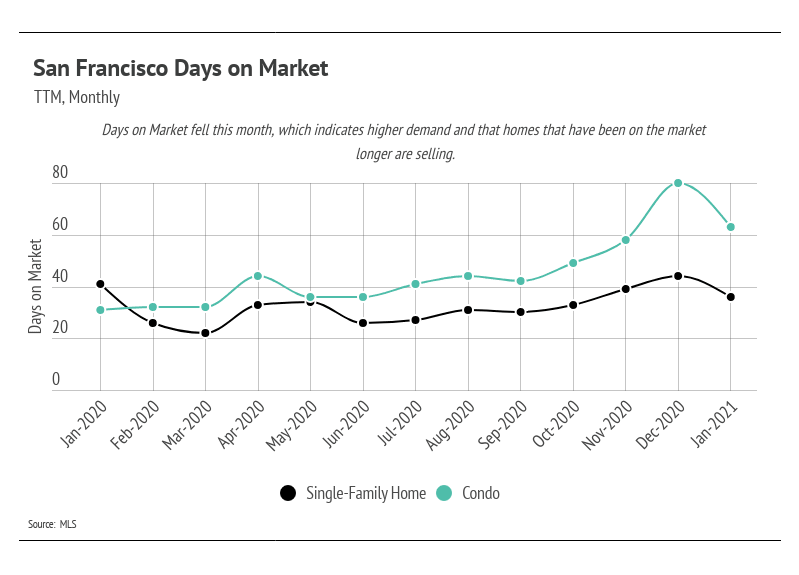 We can use MSI as a metric to judge whether the market favors buyers or sellers. The average MSI is three months in California (far lower than the national average of six months), which indicates a balanced market. An MSI lower than three means that buyers dominate the market, and there are relatively few sellers (i.e., it is a sellers' market), while a higher MSI means there are more sellers than buyers (i.e., it is a buyers' market). With a decline in sales volume, the MSI rose in January 2021 to 2 months of supply for single-family homes, still favoring sellers, and to 3.2 months of supply for condos, which is more balanced.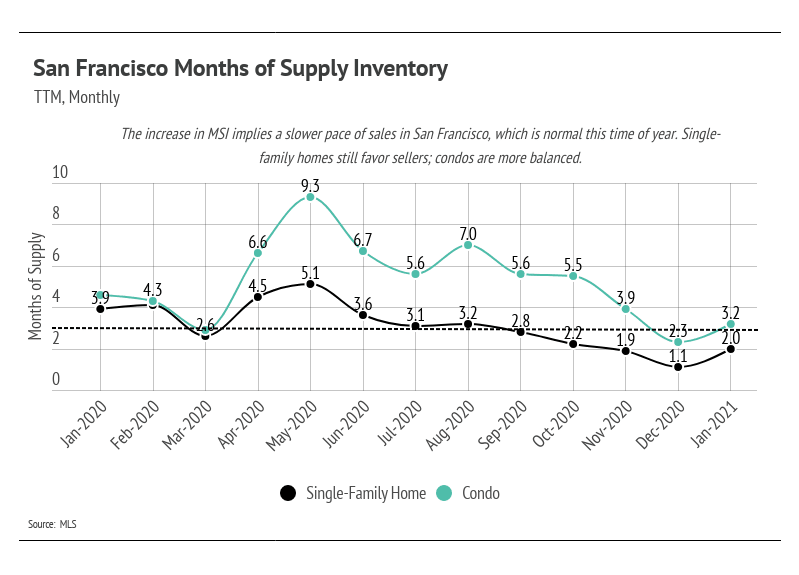 SUMMARY
In summary, the high demand for single-family homes present in San Francisco has buoyed home prices. Inventory for single-family homes and condos will likely decline further this year, and fewer sellers will likely come to market, potentially lifting prices higher. Overall, the housing market has shown its resilience through the pandemic and remains one of the most valuable asset classes. The data show that housing has remained consistently strong through this period. Potential condo buyers have a unique opportunity to find a home, with more inventory to choose from and low cost of financing. 
We anticipate new listings to slow until around March 2021. While the winter season tends to see a slowdown in activity, January 2021 showed higher-than-normal sales, once again highlighting the desirability of San Francisco.
As always, we remain committed to helping our clients achieve their current and future real estate goals. Our team of experienced professionals are happy to discuss the information we've shared in this newsletter. We welcome you to contact us with any questions about the current market or to request an evaluation of your home or condo.