October marks a variety of noteworthy milestones. The fall crisp air is in full effect, we see the return of pumpkin spice lattes, and shelves at the grocery store stockpiled with candy in name of trick and treaters. October has another special meaning for Bernal. It is the month that the Bernal Heights Neighborhood Center holds its flagship fundraising event, Fiesta on the Hill.
WHAT IS FIESTA ON THE  HILL?
Fiesta on the Hill is the Bernal Heights Neighborhood Center largest event of the year that helps make all their programs for promoting a 'just and equitable community' possible. The street fair is on Cortland Avenue Sunday, October 27 from 10am – 4pm with live music, street artists, and gourmet food. More than 100 booths will line the street including ours. Bring the whole family for pumpkin carving, games, even a petting zoo. 
For some Bernal residents, this may be one of the few times they interact with this incredible organization. As the Fiesta on the Hill approaches, we also want to recognize some of the amazing work that BHNC.org does for our community.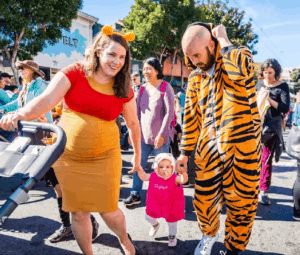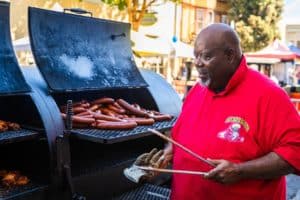 At the top-level BHNC "works to preserve and enhance the ethnic, cultural, and economic diversity of Bernal Heights and surrounding neighborhoods." They achieve this goal through a variety of programs. Here are just a few of them:
WHAT ARE THE BHNC PROGRAMS?
Youth Services
BHNC provides an array of youth activities that help direct, entertain, and educate our youth. These programs encourage children to avoid trouble by providing job readiness training, academic support, and personal development. It also assists these youth in connecting with employers. 
Senior Programs
Bernal Heights senior programs are designed for both body and mind. According to one glowing Yelp review of the center [BHNC is ranked 5 out of 5 stars by the way] "On any given day you may find a "buncha seniors seriously engaged in a game of B-I-N-G-O or numerous seniors tap-dancing". Activities change weekly but include computer time, Zumba, Yoga, Tai Chi, Nutrition Presentations and more. 
Food Programs
The center holds a free Brown Bag distribution program for seniors 60 and up every other Thursday, distributes Food Boxes once a month, and assists members navigate the ever-changing eligibility requirements of SNAP. 
Bernal Heights Housing Corporation
Arguably one of the greater impacts of the Center is the Bernal Heights Housing Corporation BHHC. BHHC has 18 developments, totaling 593 units that provide stable and affordable homes to our most in need. This represents low-income families, their children, and individuals that were previously homeless or have special needs. 
Community Events
BHNC's Community Engagement Department focuses on bringing together all of Bernal Heights residents. These events include the Hillwide Garage sale, Open House, Community Congress, the Block Parties and of course Fiesta on the Hill.
WE'LL SEE YOU THERE
So whether you are a supporter feeding the hungry, affordable housing, senior services, keeping our youth off the streets or just interested in some good old fashioned family fun – come support this wonderful community event. We look forward to seeing you there!
Legacy Real Estate will have a booth at the event providing a place to sit down, relax, charge your phone and play games. Come visit us for a relaxing siesta…. at the Fiesta.
ABOUT THE AUTHOR
WE ARE TOP BERNAL REALTORS
My mother and I have been helping Bernal community members buy and sell homes in Bernal for over 35 years. In the last year and a half we sold 12.5% of all homes sold over $3M. We found on average our homes were on the market for as little as 11 days and we helped our clients secure a healthy 17.5% over listing price. If you are thinking of buying or selling in Bernal Heights and San Francisco or if you know someone that is. Come visit us at the Fiesta or reach out to us below.
"*" indicates required fields