Amidst this COVID-19 pandemic and shelter-in-place order, the San Francisco real estate market continues – albeit a little more slowly and without the close personal contact that successful real estate teams rely on. Let's take a quick snapshot of the last 7 days of activity in San Francisco to see what's really going on:
82

new pro

pert

ies have come on the market

50

properties have gone into contract

85

properties

have

SOLD
What we are seeing is that transactions are continuing, new properties are coming onto the market, and are being sold. In fact, more properties entered the market this week than the previous. Activity will continue. We want you to know that we are steady and here to stay. Legacy Real Estate has been busy coordinating many real estate activities while sheltering in place. We currently have properties Coming Soon (as in, this weekend and next week) and have also continued to help buyers get their offers accepted. We do however expect a slow-down. The extension of Shelter-In-Place for San Francisco until the beginning of May is certainly a factor. So let's examine 3 News Stories that are impacting the market.
1. CORONAVIRUS
COVID-19 has government entities around the world, as well as global markets, facing uncertainty. The situation is impacting real estate in two ways:
Quarantines, travel bans, and supply chain disruption may cause a 2020 recession. If this happens, food service, travel, and entertainment are expected to be hit the hardest. To minimize potential impact, the U.S. government has put in place a $1 trillion stimulus package, providing funding for distressed sectors of the U.S. economy, backing for small businesses, and direct payments for American citizens.
Travel bans are impacting international buyers. Travel bans are increasing across many nations and the Chinese travel ban is likely to have the largest effect on the US real estate market. MarketWatch reports that Chinese buyers are typically the largest group of foreign purchasers of U.S. residential real estate, and nearly 40% of those purchases happen in California.
2. US Stock Market Falters

The longest-running bull market in history ended in February 2020 due to uncertainty around COVID-19. Both the Dow Jones Industrial Average (Dow) and the S&P 500 indices peaked in February, on the 12th and 19th respectively. As of March 13, the Dow lost 22% of its value from its peak one month earlier. The S&P 500 followed a similar path and is down 20% from its peak. On March 12, the Dow had its worst trading day since the 1987 crash, triggering the second trading halt in one week.
In the midst of this news, it's important to recognize that the S&P 500 increased over 330% in the last 11 years. All of that wealth has not been lost over the last month.
3. Interest rates move to zero, and the Fed begins quantitative easing.
While we're experiencing unprecedented events socially and economically, federal interest rate cuts and quantitative easing has created an opportunity for buyers eager to enter the market.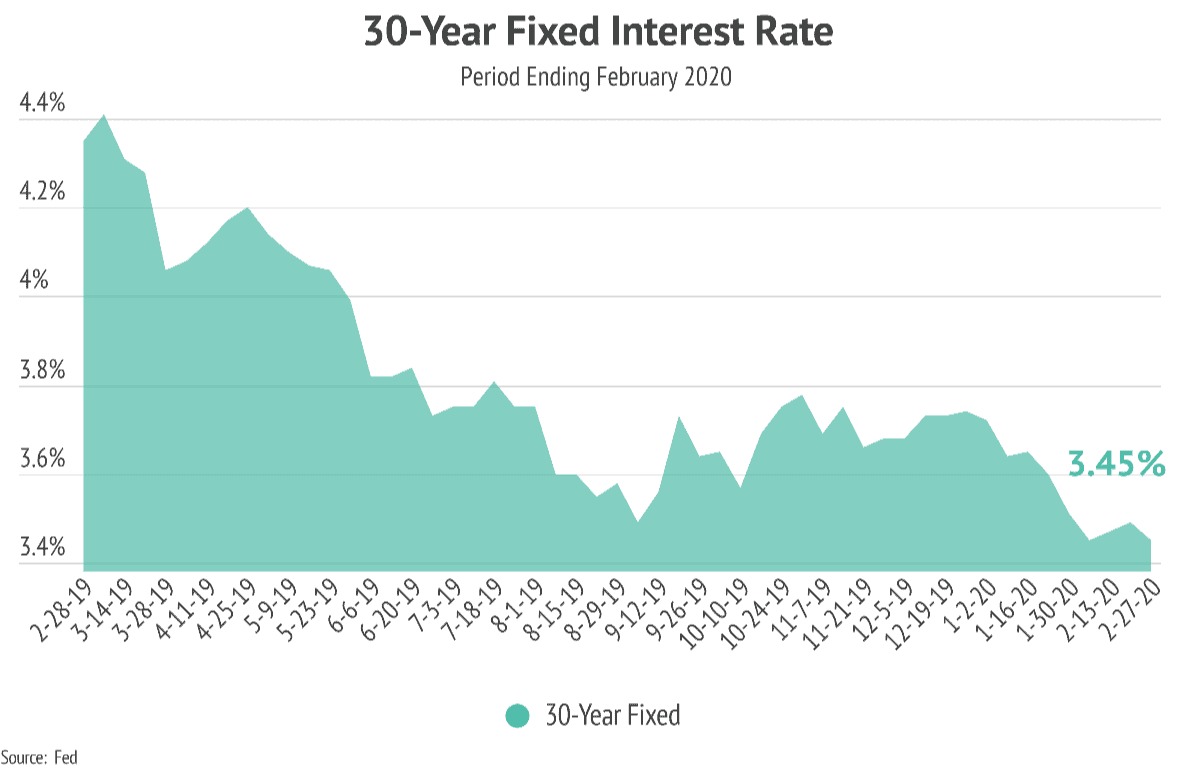 In response to the Dow falling, investors pulled their money out of the stock market and moved it into safer U.S. Treasury bonds, causing interest rates to drop. On March 3, the Fed cut interest rates by 50 bps. On March 15, the Fed stepped in again, cutting the federal funds rate to zero. In the coming months, the Fed will purchase $1.5 trillion in U.S. Treasury securities as well as several hundred billion in mortgage-backed securities. This process of quantitative easing, which increases the money supply, was last used in the 2008 financial crisis in an effort to encourage lending and investment.
Lower rates will encourage current homeowners to refinance and potential buyers to enter the market to take advantage of the cheap financing opportunities. In this climate, investments in real estate will potentially increase, driving prices higher as investors allocate capital away from stocks.
Looking ahead, we expect an increase in volatility in stocks and bond yields to dip lower and lower as quantitative easing progresses. An investment in real estate may actually be the best allocation at this time.
As we all navigate this together, please don't hesitate to reach out to us with any questions or concerns.
---
Interested in a local market analysis for the Bayview Neighborhood. << CLICK HERE!!!>>
Interested in Bernal Heights Real Estate. <<CLICK HERE!!!>>
---