There have been many incredible changes for Legacy Real Estate in recent months including our brand new office at 580 4th Street, right in the heart of San Francisco's SoMa neighborhood. We love our new location and we think you will too.  We are close to all that downtown offers and now provide our clients much easier access to the office. With this change of location and close proximity to both the 101 and 280 plus the easy parking directly across the street it's as easy as one, two three, to get started and head off to home tours quickly.
OUR OFFICE BUILDING
580 4th Street was formerly occupied by Chrome Industries, you may recall their iconic red awning and black pegasus logo.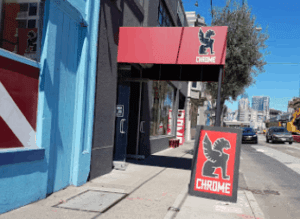 Now the building sports a gray/black awning that matches the exterior and blends into the eclectic mix of high rise offices and renovated warehouses.
THE TOUR
Come on in, say hi. All you need to do is sign in at the front desk. We will be onsite the first Monday of every month from 11am to 5:00pm and we welcome you to drop in for a tour, treat or drink. 
To view listings in your area and any upcoming open houses check here or give us a call on 415.871.3885