San Francisco is an incredibly unique and diverse city. Our many neighborhoods, each with their own architecture, food, and culture all come together in a mere 7×7 mile radius to create this special space. As a team involved in real estate and who live here, we understand what works for one San Francisco zip code does not always apply in another. Tactics for buying and selling in SOMA, for example, do not always apply to Bernal and vice versa. That is why we created an analysis specifically for the Bernal housing market. 
You require local expertise to make the right decisions. That is why we are sharing our State of the Bernal Market Report in full HERE. Click the link to find out what 2019 can teach us about the future of Bernal real estate, distinct strategies for buying and selling in 2020 and beyond, and the impacts of COVID-19.
---
DOWNLOAD OUR FREE BERNAL STATE OF THE MARKET REPORT
---
Not interested in the full report?! No problem. Here's a snapshot to whet your appetite. Have any questions? Don't hesitate to drop us a line. Let's get to it!
THE BERNAL HOUSING MARKET KEY INDICATORS
Let's take a look at Bernal Heights local housing market data to refine a winning buying and selling strategy. Here is a snapshot of the housing market in January of 2020 across several key indicators. As the market conditions change in response to the global pandemic, we can look at this data in real-time to make the best decisions. We use data specifically for homes in the 94110 zip code.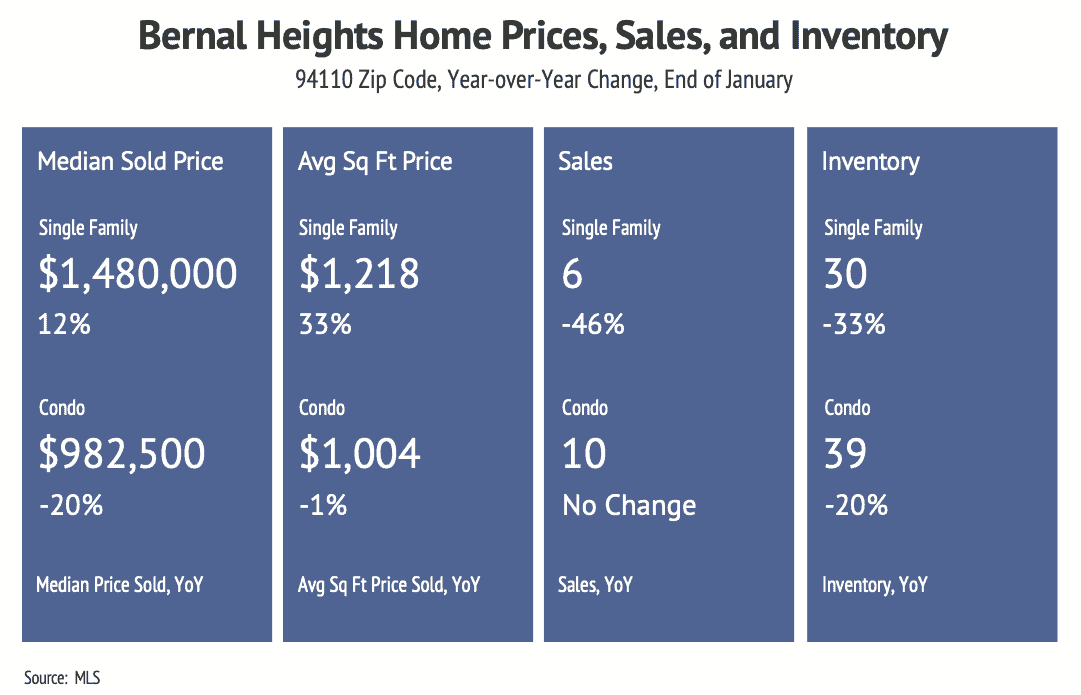 In January, single-family homebuyers paid a slight premium to live in Bernal Heights compared to the rest of San Francisco, although condos were significantly more affordable. Median prices were up for single-family homes and down for condos compared to the previous year. 
Appreciating prices might encourage sellers to price their homes slightly above comparables. Sales were down by almost half for single-family homes, primarily due to lower inventory, which fell by over a third compared to last year; there are simply fewer homes on the market to sell driving up the price and competition for homes in the Bernal neighborhood.
---
Want to learn more? Download the full report free. Click here.
---
We want to assure you of all investments you can make, real estate has historically proven to be the best asset you can own in the long-term – and we expect this to continue to be the case.